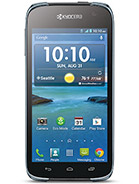 ?
Seriously, this phone is a steal. The camera kind of sucks, but the rest of the feature more than make up for it. And the freaking touch screen glass is the receiver. The sound actually comes through the glass. So awesome.
R
This is fantastic phone. Bought it for my wife after she put a bottle water in her purse and got her other phone wet, after which it did not function well after that. Being a photographer for over 50 yrs, where this phone falls short is in color resolution. Colors are not vibrant for me, but great for her.
m
AnonD-319584, 15 Oct 2014Top notch item here; considering the cost it's a TKO. Copying several GB's of MP4's to intern... moreBought it for 29.99 at Metro, twenty cheaper because a salesman knows sales and can appeal to their greed. Anyway I've dropped 4 times, w/o a scratch, fast quad core performance, and bigger screen, I'm sold.
D
Top notch item here; considering the cost it's a TKO. Copying several GB's of MP4's to internal storage (class 10 MicroSD) from Windows7 file manager (HP Laptop ported USB2) was exceedingly faster than my friends Samsung Galaxy S5 and my LG Optimus G - which this phone replaced... (copying 1.29GB from my LT to Phone required 116 seconds = Awesome performer). The touch screen is the smoothest object i've every touched; literally smoother than that. These phones are bit lighter than i'd liked, but are stable and nests well in the palm. Pre-installed apps galore - but easy to uninstall them. The "Life" will get on your good side quickly; combined with the confidence of military grade standardized design and Androids capable Jelly Bean OS it's a TKO for Kyocera. After over 15 years in IT i'm willing to say it's on par with the best of today's cellular offerings. Both front and rear camera's are respectable performers, you will be impressed with the pre-installed enhancement and editing software; functional and smartly developed. Streaming online video's is excellent too, side by side with my friends IPhone5 reveals the "best bang for the buck" is all Kyocera's. Not to mention the Lifes qHD screen is larger; in this case that doesn't mean less detail in the pixel world tho. Regardless of the angle the video was clear although the speakers weren't a loud as the IPhone's they performed, respectfully. Obviously, i like this phone.

R
Its Sure is A Killer Phone Just bought it and am very impressed.. no regrets kind of purchase
Total of 29 user reviews and opinions for Kyocera Hydro Life.