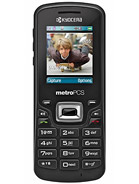 i1076131
Why does Kyocera make phones that NO ONE cares about?!
D
You guys are missing pretty much every candy bar feature phone from Kyocera sans the most recent ones and this. There have been numerous variations of this phone and the most recent being Rally. I like the design direction Kyocera went and their BREW Qualcomm bars have phenomenally tight construction. It's probably the closest thing to pre-2008 Nokia by far.
Total of 3 user reviews and opinions for Kyocera Presto S1350.