Research firm ComScore has released its latest numbers for the US smartphone market revealing that Android is still the top smartphone platform in the country, although it witnessed a slight decrease in its market share last quarter.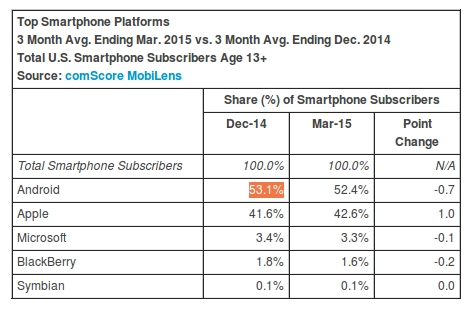 Google's mobile OS claimed 52.4% market share in March, down from 53.1% it had claimed in December last year. Apple's iOS held on to its second position with 42.6% share, up from 41.6% it had in the previous quarter. Microsoft, BlackBerry, and Symbian rounded up the top five with 3.3, 1.6 and 0.1% market share, respectively.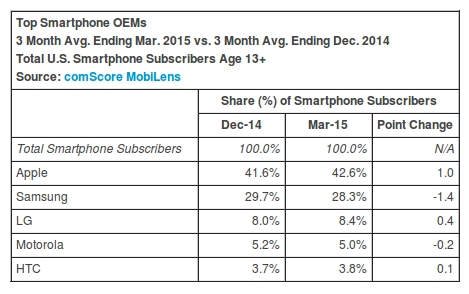 As for smartphone manufacturers, Apple claimed the top spot with 42.6% market share, up 1% compared to last quarter. It was followed by Samsung, which claimed 28.3% share, down from 29.7% it had in December last year. LG, Motorola, and HTC rounded up the top five with 8.4, 5.0, and 3.8% market share, respectively.
Among smartphone apps, Facebook came in at the top spot, reaching 69.5% of the app audience, followed by YouTube (55.9%), Google Play (51.5%), Google Search (50.6%), and Facebook Messenger (49.8%).
Source
?
you can still buy Symbian phones in US??
a
True. Plus..good use of the word arcane.