The Galaxy S III rumor mill is now running on full steam. According to the latest bit of info from Know Your Mobile, the next Galaxy phone will have a 4.8-inch display.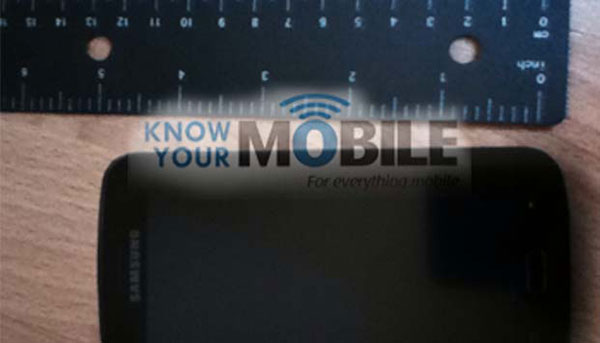 They reached upon this conclusion after they received the picture above with the phone set against a ruler. The length of the phone seems to be somewhere around 130mm, which makes it about as long as the Galaxy Nexus. The display itself seems to be a bit above 100mm. If you do the math it turns out to be around 4.8-inch diagonally, which is slightly greater than the 4.65-inch figure that was being floated around.
There is not much else to see except the presence of what looks like a physical Home button below the display. The constant appearance of this button keeps confusing us as we have already seen the phone having software keys within the display, as on the Galaxy Nexus. Then again, this is just a prototype device and the final device might not have this button at all.
S
Good that your screen size grows bigger but the PPI grows lower compared to the Sony Xperia S, your colours sucks all time which can spoilt the eyes in the long run.
B
I hope it does have a physical home button. just like the note and almost all other Samsung phones in the last 8 or so years. it's so much nicer to use the home button to light up the screen to unlock rather than the lock button
h
Ya sure u r Ryte dude ...when we use note consistently den in few days we realize it's easy to use or not so large ..bt those r not able to buy it only dat ppl bother abt it's size ..bt what a brilliant display n browsing quality of note I jst love ...
ADVERTISEMENTS