Latest Google Photos update breaks magic eraser feature on Pixel 6 phones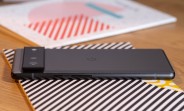 According to numerous reports online, the latest update to the Google Photos app (version 5.76.0.425427310) has broken the magic eraser function on Pixel 6 units. The bug appears to be affecting plenty of Pixel 6 and 6 Pro owners and there's no way to fix it for now. Once you go into a photo and try to use the magic eraser feature on the phone the app crashes and kicks you out to the home screen.
This is the latest in a long list of bugs and problems with the Pixel 6 line. We've seen network connectivity issues, a botched December software update, and unrsponsive fingerprint scanners among others. There's no solution for the magic eraser bug currently so if you haven't updated your Photos app we advise you to turn off auto-updates and stay put until Google issues a fix.
?
Lol.. get off the fanboy wagon. Both the Galaxy and Apple's garbage phone X can't compete with Pixel on any feature level and never will, I can laugh you Apple fanboys constantly whining at no innovation Apple about playing catch-up 🤣 there...
K
I know most of you are upset and let me say angry that you bought this rubbish, waste material, junky (junkie) useless phone. I bought it as well but i got rid of this crap phone.in less then 48 hr. Went back to Fold 3 and Iphone 13 Pro max. (no ...
H
Oh yes, thank Godness!!! You can live a happy life now...
ADVERTISEMENTS