The latest Oppo Find 7 teaser officially confirmed that the device will be available with two different display resolutions. As previously rumored they include Full HD (1920 x 1080 pixels) and QHD (2560 x 1440 pixels).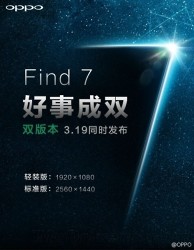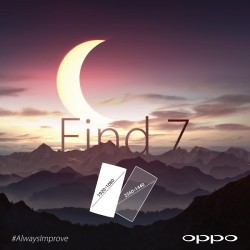 Oppo Find 7 latest batch of teasers (click to enlarge)
Rumor has it that the version of the smartphone with a QHD display will feature a Qualcomm Snapdragon 801 SoC and 3GB of RAM. The lesser model with 1080p display on the other hand, is tipped to ship with Qualcomm Snapdragon 800 silicon and 2GB of RAM.
In addition to a duo of available screen sizes, Oppo Find 7 will have a removable battery. If yesterday's leak pans out, the device's camera is also going to be quite a stunner.
Oppo Find 7 will be officially unveiled on March 19 in Beijing. Be sure to tune in for the full scoop on the upcoming device.
l
Two mistakes in ur opinion. 1) Pic u see on screen depends on the aperture of the ur camera lens , not on the display resolution. 2) more resolution, doesn't fetch u anything beyond ~350 pixel per inch density.( 1080p,
A
"Except that such pointless "features" drive the less knowledgeable to chose a set like this over a set with a more sensible feature set." I feel the same way about device specs. I think they're given way too much importance,...
H
All phone are good depend on your usage! 1. What size u want, this will narrow down your selection. 2. What is your budget, now left with fewer units. 3. Compare the specs, u should know which one to get now beside shapes and design etc...etc...go...