Wikipedia for Android has received an update, bumping it to version 2.0.110. Among the new features the update brings, the most notable is the ability to let users see previews of links.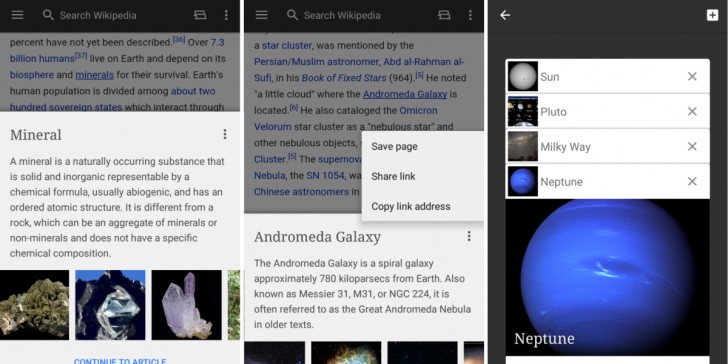 The updated app now lets you see a preview of the article whenever you tap on a link, making it easier for you to take a quick look at the topic without leaving the current page. The preview also includes a swipeable image thumbnail gallery.
In addition, pressing-and-holding links now produces more options, including save for offline reading, share, and copy. The update has also made it easy to share a link to the current article, something which can now directly be done from the overflow menu.
Finally, the update has also brought along tabbed browsing, updates to Material Design compliance, and several other improvements.
i
So who told you to read Wikipedia? No one. So stop right there. You are still a kid, so go to some kid website.
?
It's not easy to be a SEEKER. You need to know what others thinking, what they want, what they need, their special/common rights, use your own/others experiences, use your common senses, your soul. sometimes what the majority want is not the bes...
t
So compliments and thanks to Wikipedia! Well done and keep it up! !!