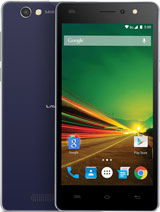 r
Dharma , 19 May 2016It is looking very good. Nice display, super fast 4g net work. No heating problem.. Nice voi... moreNot support otg cable is thre any solution for this plz tell me
g
satisfied for specification about rate. but touch is bad (Not user friendly)

Advise to don't fix the tempered glass it may reduce the touch sensitive.

Think and Buy.


A
Woow... look at the price ...just 5790... no hanging...smart browsing....fine secondary cam 5mp with flash...light weight... toughest flame...smart phone +...i will prefer you to go for this product...!!
?
Sathish kumar, 26 Jul 2016It is a good phone for 5999 and no heating problem and good 4g network no hanging problem and... moreToo bad always get heated . bad inbuilt launcherr any aluncher on play store would be better then this .very slow Many other phones in same price can be bought which work better then this
R
Please tell me.....
why this phone working very slow......infact i already use lava mobile lava iris x1 grand in that mobile no hanging problem but this mobile is always hang

S
It is a good phone for 5999 and no heating problem and good 4g network no hanging problem and good Os also.nice phone to buy frds..
T
Well I must admit a few things as spotted on by user Arijit that the phone hangs a bit more specially if there are too many apps on background as compared to any Micromax/Panasonic etc phones.
However it's pros are that it's camera quality although lacks AF apperture, yet picks decent quality pictures even in low light due to both crunchy LED Flash light (Selfies as well rear).
Battery back up although boasted 2500 Mah(Upto 2 days if not used frequently) is good, but not upto mark.
1 GB Ram is a bit downstate, yet a lot apps can be downloaded compared with Micromax Phones. However the biggest pros for this phone is price range as well as the HD IPS display with 294 ppi, 1.5 GHZ Quad Core processor which is faster than all it's rivals.
Overall a very decent smartphone at this price range with a corning Gorilla Glass 3.
Rate 7.5/8.00/10
Cons: Lava durability is good, but lacks as the phone hangs a lottttt.
Not very recommended for gaming enthusiasts as not able to open the most fav game Candy Crush Jelly/ Candy Crush soda versions.
s
This is just Sucking..... hangs automatically switch off.......network issues are a big....my god im nearly dead with this bloody mobile. i hate it. and i bought before two days. please dont trust and buy such a sucker
A
Very happy with Lava A72 which I bought few weeks ago. Its 5MP camera captures clear photos and battery life is quite satisfactory! And as its OS can be upgraded to Marshmallow its performance is quite smooth.



A
Lava A72 is a 4G phone for less than 7K, which is pretty amazing. I have been looking for a 4G phone for my mom and I think lava A72 would prove to be a pretty good deal. The phone supports, lollipop 5.1(upgradable to marshmallow), good camera quality, lasting battery backup of 2500mAh and extensive memory, which is quite impressive. IÂ'm actually quite surprised to see that a Lava phone has such nice features.
Total of 32 user reviews and opinions for Lava A72.