Lava unveils four new Z-phones, launches myZ phone configurator tool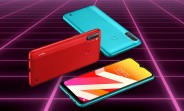 Lava Mobiles' Game Changer event ended with no less than four new phones. Actually, a bit more than that. Or less, depending on how you count. They are all part of the Make in India program, but the Lava Z1 holds the distinct title of the first smartphone designed in India.
Lava Z6 and Z4
We'll lump these two together as they are essentially the same phone. Both have 6.51" displays with 720p+ resolution and run Android 10 on MediaTek Helio G35 chipsets.
The major difference is whether you want 4GB of RAM (then get the Z4) or 6GB (go for the Z6). In either case, you'll be getting 64GB storage with a microSD slot for more.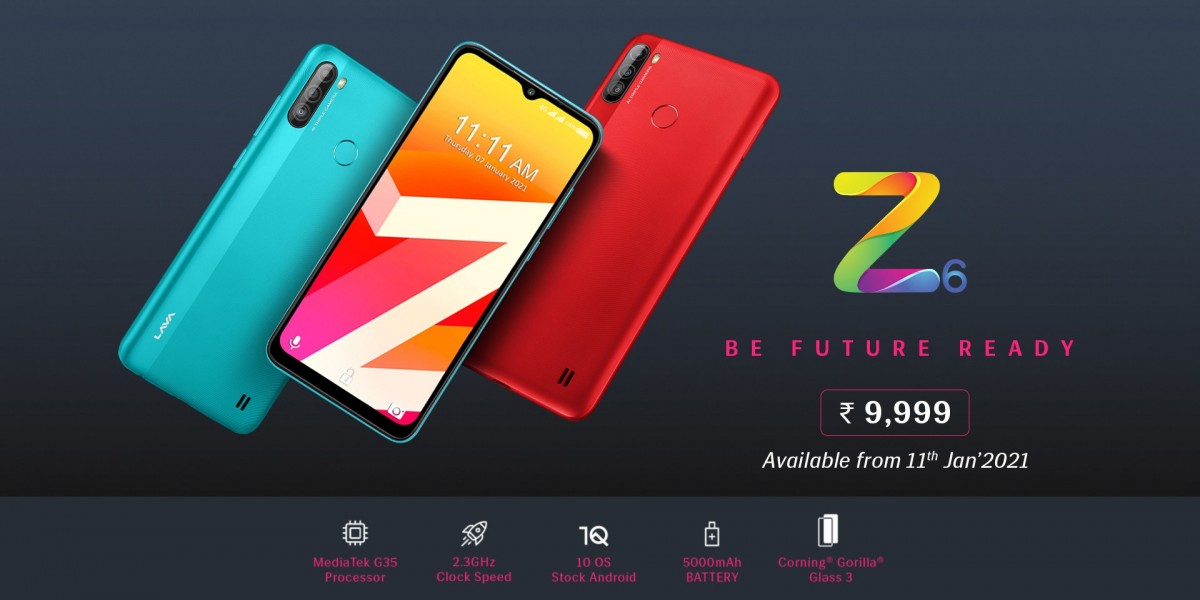 Both devices have 5,000mAh batteries with a leisurely charging speed of 3 hours and 15 minutes (done over USB-C at least). On the plus side, the capacity is enough for almost 13 hours of streaming YouTube videos.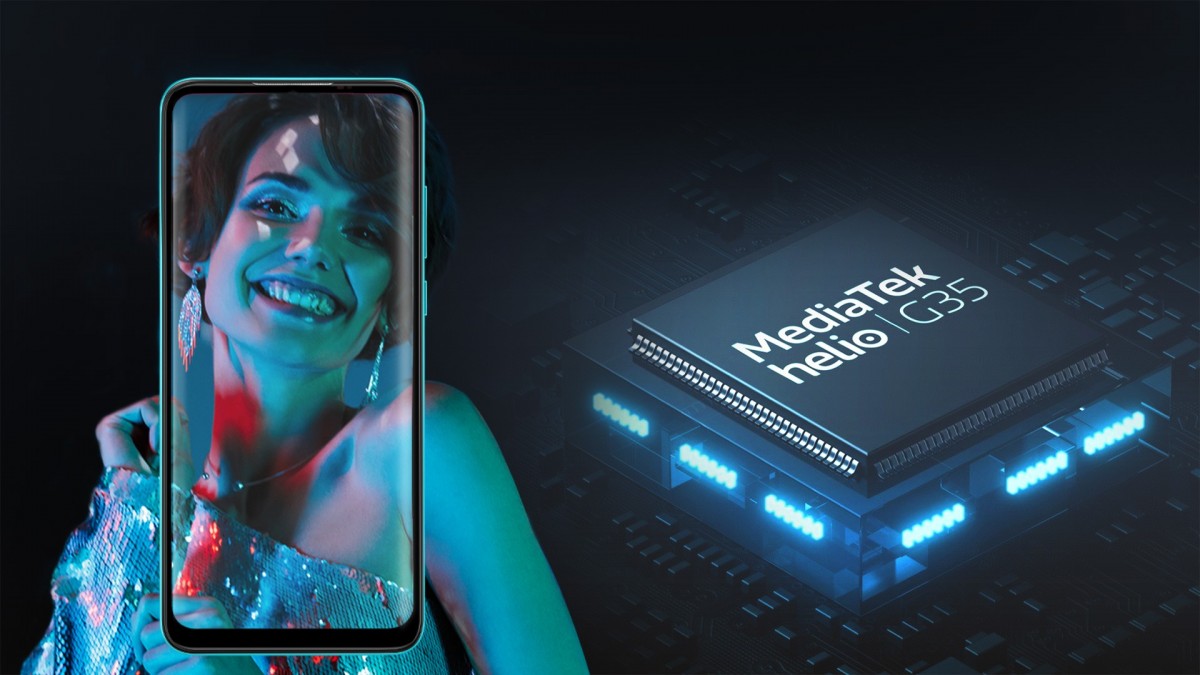 The camera section shows a triple rear camera – 13MP main (1.12 µm, f/1.85), 5MP ultrawide and 2MP assistant. The selfie camera has the highest resolution sensor of the lot, 16MP (1.0 µm, f/2.0). Video recording is capped at 1080p.
These are 4G phones with VoLTE support, They also feature a 3.5 mm headphone jack and an FM radio receiver.
The Lava Z6, Z4 and Z2 will be available from January 11. You will find them on the company's official site, Amazon India and brick-and-mortar stores. The Z4 will cost INR9,000, while the Z6 goes up to INR10,000.
Lava Z2
The Lava Z2 is a "lite" version of the two phones above. It has the same 6.57" 720p+ display with Gorilla Glass 3 protection, same Helio G35 chipset and same 5,000mAh battery.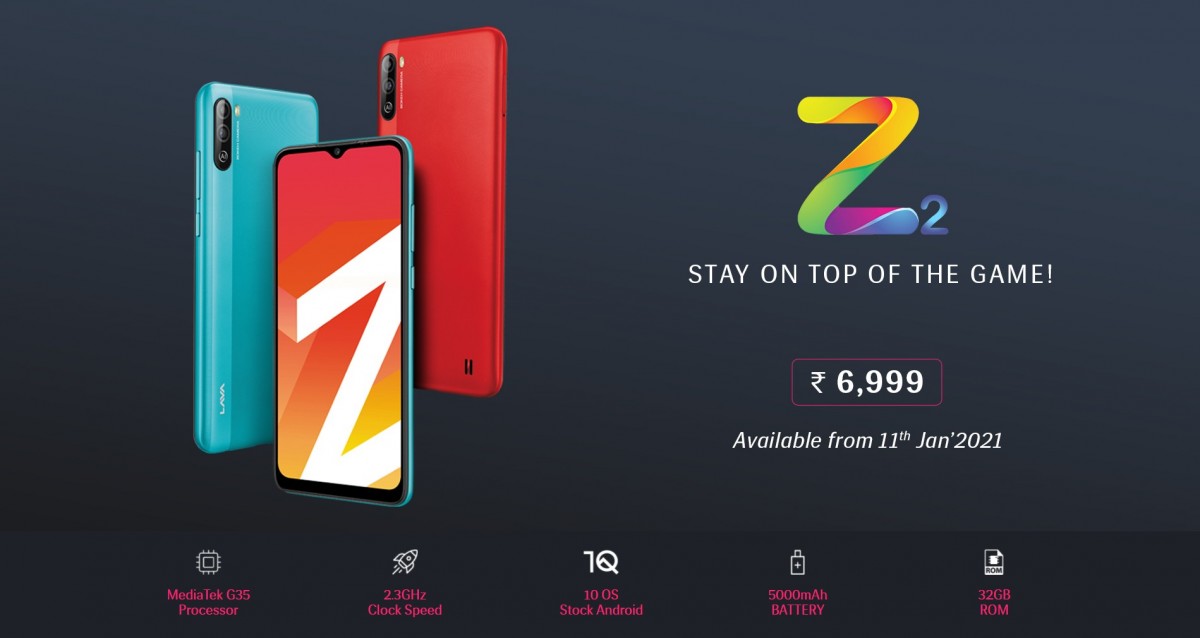 Where it differs is memory, the only configuration available is 2GB of RAM and 32GB storage (again with a microSD slot), and camera.
The Z2 gets the 13MP main camera and 2MP helper, but loses the ultrawide module. Also, the selfie camera gets demoted to 8MP. Video recording still tops out at 1080p.
With these concessions, the Lava Z2 can be yours for INR7,000.
Lava launched the Zup program, which allows you to trade in your phone for the same model with more RAM and storage at a small cost. This is applicable only for the first year of ownership of Z2 through Z6 phones (and myZ phones, more on that in a minute).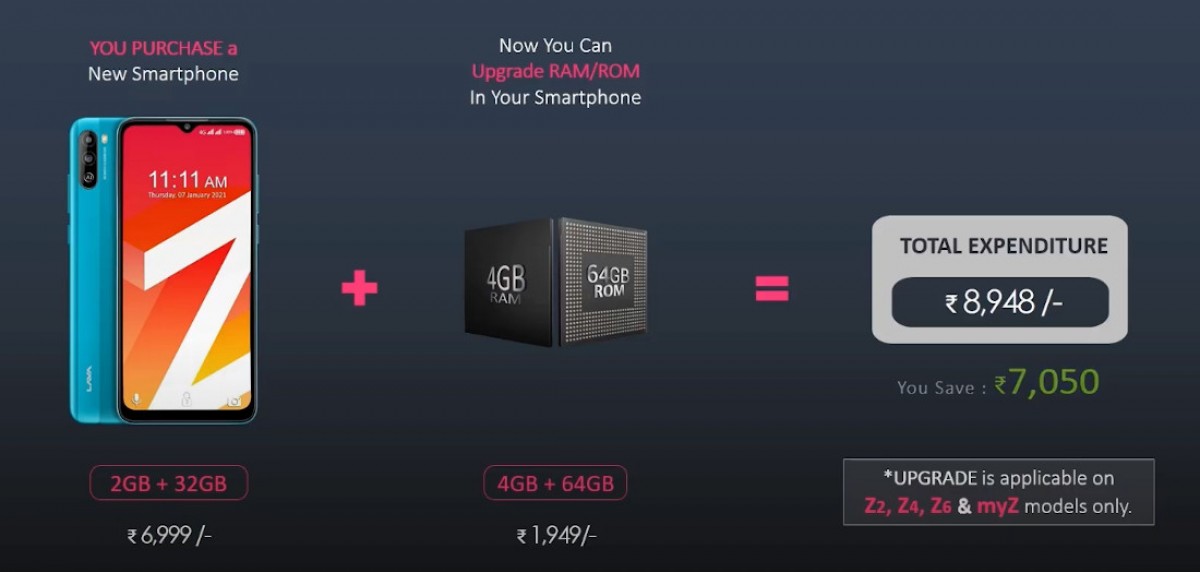 Lava Z1
The Lava Z1 claims to be the first smartphone designed in India. That aside, there's not much to write home about – this is a basic phone with a 5" 480 x 854 px display (which still gets Gorilla Glass 3 mind you) and single 5MP cameras on the front and back (limited to 720p video capture).

The phone does run Android 10, but it will be limited by the 2GB of RAM and 16GB storage. And there's no microSD slot this time around. Also, the MediaTek Helio A20 chipset is a 12nm part with four Cortex-A53 cores (at 1.8 GHz) and a PowerVR GE8300 GPU.
The phone is powered by a 3,100mAh battery charged over microUSB. It offers 4G connectivity plus Wi-Fi b/g/n, GPS/GLONASS and a 3.5 mm headphone jack with an FM radio receiver.

The Lava Z1 will cost INR5,500 when it becomes available on January 26.
myZ
Don't like any of those configurations? Lava launched the myZ program, which allows you to customize your unit by selecting from options in five categories: rear camera, front camera, RAM, ROM and color.
It sounds exciting, but the reality is that this is more of a gimmick. You get pretty limited options, e.g. for the rear camera you can choose between 13MP + 5MP + 2MP or 13MP + 2MP. And that limits the choices you have after.
The top-specced configuration is identical to the Lava Z6, except it costs INR 10,700. That comes with 128GB of storage, though, double what the Z6 gets (for only INR700 more).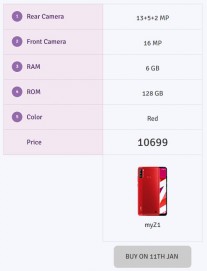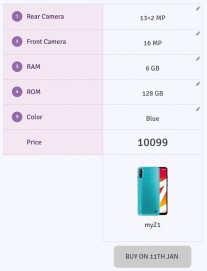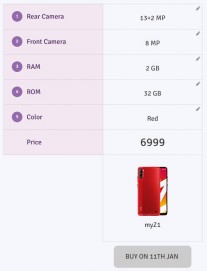 myZ configurations: top specs (better Z6) • better Z2 • lowest specs
You also get some additional flexibility if you're not aiming for the top. You can configure a Z2-like phone with 6/128 GB memory or a 16MP front camera (or both). Or you can drop to 2GB of RAM, which also switches the OS to Android Go.
The prices never quite work out for the better, however, (e.g. a 2/32 GB Android Go phone ends up costing INR7,000). Except if you pick the top spec in every category, that way you get a Z6 with more storage for a bit more money.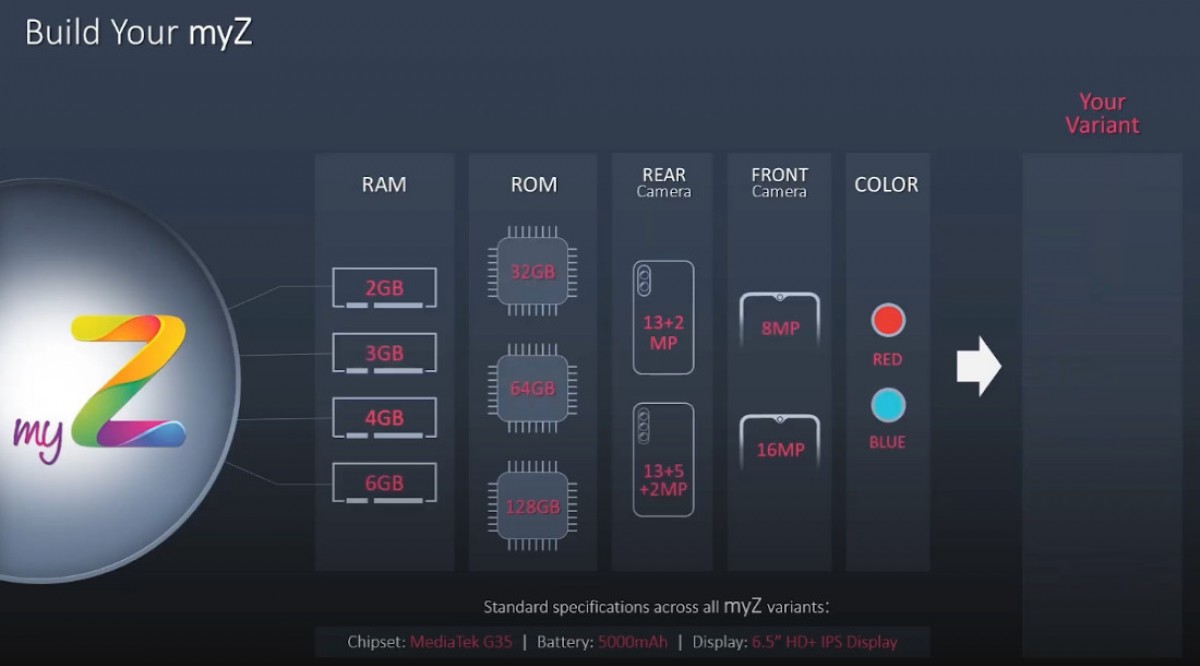 Visit the myZ page if you want to play with the configurator. According to Lava, there are 66 possible combinations.
A
Please add option to buy Non camera version of the same phone to be used in restricted area's/ locations. The very same options are only available in middle east- UAE etc. Phones like Lava R5S Play Without Camera, R1s, iris i88 etc. Give an ...
B
First Smart Phone designed by Indian Designed Team
A
Looking forward to the 5 inch device on 26th Jan. Atleast there is 1 goddamn phone which is exactly 5inch and sort of usable. Otherwise iPhone 12 mini is super expensive small phone option
ADVERTISEMENT