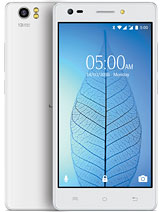 F
A really good phone. My friend has been using it for long. The 3 GB RAM really makes it very smooth and responsive and also quite fast. Definitely a great phone in this price range. It also comes with Android 6.0 Marshmallow, so you know you're getting the best of the best in this phone. Thinking about buying one for myself now and would also recommend others to go for the Lava V2 without any doubt.
A
I got myself the Lava V2 smartphone (3GB version) and I'm quite satisfied with the performance. See I'm not a techie, so don't expect the technical mumbo-jumbo from me.
• Works like a charm, no lag! That is a MAJOR-MAJOR plus in my books!
• Best part, comes with Android 5.1 with a guaranteed update to 6.0!! So even smoother performance, plus who doesn't like getting the latest things in their kitty, eh?
• Big screen so the view is clear and big and makes the viewing experience new!
• Don't care about the camera much, so its pretty much okay for me!
• Battery to me seems okay, lasts about 10-12hrs on a single charge. So good enough!
For 10,149 INR, it sooo worth it! Hope this helps!!

Total of 82 user reviews and opinions for Lava V2 3GB.