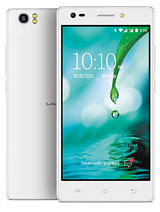 j
jaff, 26 Sep 2016when will be the new update in software will appearthanks lava for upgrading the version
?
telen, 01 Jul 2016guys please change about otg. it does not support otg.after updates it will support otg. the hardware has usb Host, but at present the kernel is not compatible
S
this phone is just awesome. It delivers the quality it assures. nice display, camera, no lagging problem, cool design in & out. nice features under low budget :-)
D
To answer that, I've been using V2s for some time and one thing that I can say without a doubt is the fact that it works really smoothly! It actually delivers what it promises! And that too on a budget of 5k. Extensive memory, powerful battery (2500mAH), Android 5.1 (so almost the latest feature) thankfully with the promise of new upgrade! (so don't worry about wasting your money on an old model), amazing sound quality is what the phone is offering. The battery is not bad either though the low lighting condition can be a problem! Hope this covers your basic help! In case you need a more detailed feedback, just post! Cheers!!
D
While checking affordable smartphones, I came across Lava V2s. I loved its sleek and stylish design and quite amazed that it supports 4G connection. Heard that its pic quality is also pretty good. I just wanna know how its performance is as I am planning to buy it!
Total of 13 user reviews and opinions for Lava V2 s.