Samsung Galaxy J7 Max leaks with 5.7-inch display, 13MP selfie shooter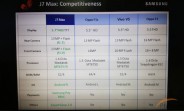 A new Samsung phone has leaked in a couple of official-looking presentation slides. The device dubbed Galaxy J7 Max is being compared with Oppo's F1s and F3 as well as the vivo V5.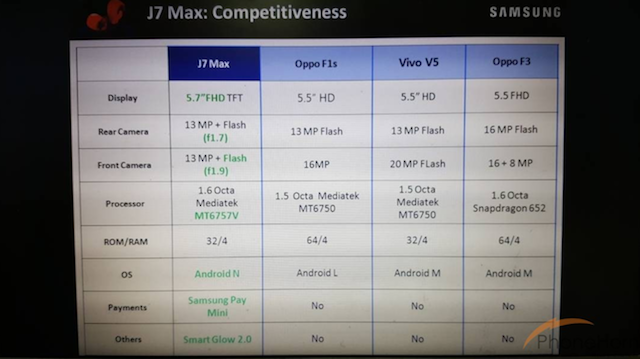 The leaked images reveal the device is powered by a Mediatek SoC with octa-core 1.6GHz processor, and sports a 5.7-inch full HD display. RAM is 4GB, while internal memory is 32GB. The handset features 13MP cameras on both front and back and runs Android Nougat.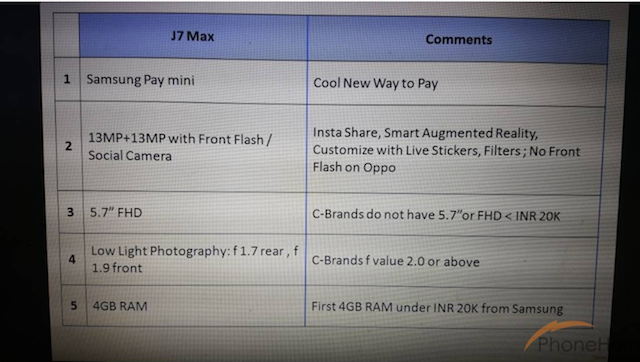 The slides also reveal support for Samsung Pay Mini. Rumors suggest the device will be launched in India in the second week of June. No words on the pricing, as well as which other markets (if any) will get it.
Z
Wow, so mch for numbers
i have owned samsung note 3, note 4 and currently using note 5. now i could act like a fanboy but i am sensible enough to say samsung's optimization is not as good as even one plus or motorola and you are talking about j2 which is a low end phone. i ...
D
14nm(GlobalFoundries) and 16nm(TSMC) are the practically the same. It's just a difference in the way GlobalFoundries/Samsung measures transistors versus TSMC. The resulting chips density and power efficiency is within the same generation.