This week could see the official introduction of the iPhone 5, if a leaked document from Best Buy is to be believed. The retailer's internal document talks about an upcoming Sprint version of the iPhone 5, which would launch in October.
The rumor mill says that the next-gen iPhone will be a dual-mode device and work on both GSM and CDMA networks - so the iPhone 5 in question might just be a Sprint-subsidized unit, rather than different hardware. While the September 5th launch rumors didn't pan out (unless Apple scheduled an event today and told no one), there was a lot of chatter of an Apple event for Wednesday - but that's rather iffy too.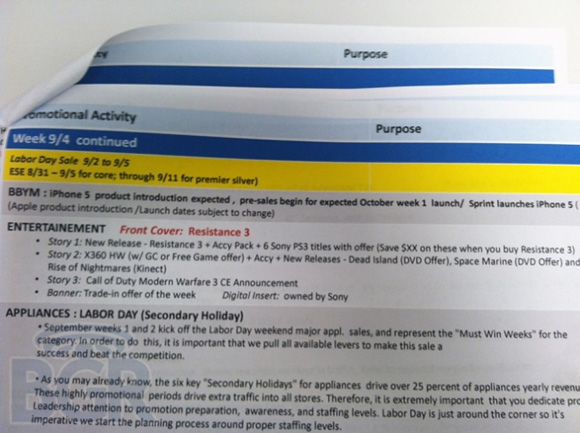 Anyway, Best Buy's document says "October week 1 launch" so we could be a month away from the first iPhone 5s getting into people's hands. Furthermore, the doc claims that pre-orders start as soon as this week, which obviously implies an impending official announcement too.
We've seen so many rumors about Apple's next wonder phone that we've grown very skeptical - there seems to be a "iPhone 5 launches this week" rumor every week. Same with the phone's specs - the latest string of rumors insists the screen will be 3.7" big.
Whenever the actual launch is, it can't come soon enough - people's levels of curiosity are through the roof.
s
iPhone 5 is a phone. iPhone 4 is a phone too, so 4 or 5 it only a phone :)
b
i am not bothered abou the IP5 at all. I have purchased the 4 just recently and am completely happy with it. Apparently the only difference between the 4 and the 5 is ios5 obvs and duel core. Still no flash etc.... so rather than waste money on the 5...
i
why wait sgs2 is awesome!!! no limitations! Reality check peeps!!!
ADVERTISEMENTS