There are two rumors about the LG G4 – one claims a 3K display, another claims a QHD one (what some might call 2.5K). A third piece of evidence swings the vote in favor of QHD, this comes from a leaked XML file extracted from a Lollipop ROM.
The file lists the LG F500 as "G4 (QHD)." It has three versions (S, K and L), which correspond to the three major carriers in South Korea. The LG G3 is F400 with the same three versions. To clear up initialism "QHD" stands for 1,440 x 2,560px while "3K" is 1,62 x 2,880px.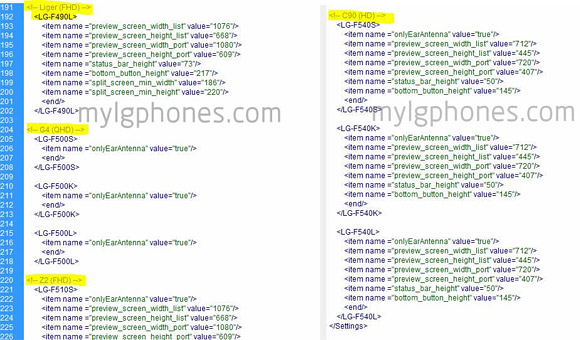 This entry is surrounded by the LG F490 (LG G3 Screen) and LG F510 (LG G Flex 2), both with FullHD resolution, which corresponds to the official specs.
A fourth, unknown device "LG F540" will have an HD screen (that's 720p). It's not clear what this is, it doesn't correspond to LG G mini numbers, but the LG Aka has a model number of F520, which has a 5" 720p screen.
Anyway, this leaves the question of the 3K screen on the LG VS999, a Verizon phone according to the model name. This may be a bespoke version for the carrier, AT&T's version will have a QHD display (1,440 x 2,560px). Either way, we won't see them at the MWC, the G4 announcement is expected later this year.
D
6) Low overhead skin over Android 7) 2 screen sizes please! Regular and phablet...don't alienate your customers with a phone that's just too big or too small. Minimal bezels, but enough to grab the edges of most cases without obscuring the scree...
D
1) 1080p is enough for 5 inch class screens. Any more resolution is just specification porn. It actually hurts the consumers by draining the battery. 2) A bigger battery that lasts 48 hrs instead of 24 hrs. Even adding one mm extra thickness to ...
m
considering the temp problems many g3 users had when it was summer and hot outside i wouldnt feel safe the g4 will be any better.. uber resolutions dont belong on small smartphones i dont see the point, it only makes the phone last shorter and gaming...