Two lucky XDA Developers Forum members ("challeen" and "innocent36") were at the right place at the right time (Thailand Mobile Expo 2013). They spotted a Google Nexus 4 on display, running Android 4.3 and decided to share their find with the eager tech-savvy world.
As its About screen confirms, the device was running Android 4.3. One of the changes they've spotted is a fresh new camera app with a new action area, which features toggles for HDR, contrast, rotation, white balance, etc.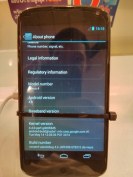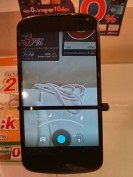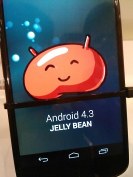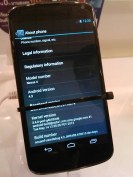 Leaked screenshots of Android 4.3
The customary Easter egg menu shows Android 4.3 Jelly Bean, which does confirm previous reports that v.4.3 will retain the name of its predecessor rather than being called Key Lime Pie.
The phone has a pre-release build (JWR45B) and a baseband string m9615a-cefwmazm-2.0.1700.74, which hasn't been used elsewhere before and will most likely be intended for GSM networks.
Although Google I/O 2013 spared us any details about next Android version to come, we know that it's already in testing on some devices, including the elusive white Nexus 4. We hope to see the new Android version on June 10, which happens to nicely coincide with Apple's unveiling of iOS 7.
We have Avast Anti Virus Anti-Theft feature. Just install in the Root and remove the clockworkmod. No one can flash a custom rom over it and you can track every details of your phone from online.
i
Samsung allready ha it apple funboy... Samsung dive!
D
Mph . OK.. what is new what changed look's like just number is higher .. and everybody gonna crap from it ..
ADVERTISEMENTS