LG G3 will feature a gold color scheme among others when available. The fashionable color option was confirmed by a leaked live photo of the upcoming device's retail box, obtained by The Verge.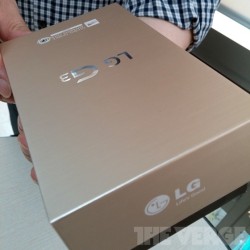 LG G3 retail box (click to enlarge)
When reached for comment, LG unsurprisingly declined to discuss what it has in the pipeline. However, the Korean manufacturer did confirm that its next smartphone will have a display with the already rumored resolution of 2560 x 1440 pixels.
Furthermore, The Verge's sources confirm that the LG G3 will indeed resemble the KDDI-bound, skinny bezels-toting LG LGL24 isai whose press images leaked out yesterday. The predecessor of the Japanese market handset, LG LGL22 is a close relative of the LG G2.
LG G3 will break cover this summer. Past rumors have pointed at a May 17 launch date.
b
Samsung has stop making oled tv because lg is d dominant one.that means LG is the best on displays and bateries.ya i know.all lg needs to do is launch its products to more carriers.
D
LG G3 has similar dimensions to the Galaxy S5, despite the likelihood of it having a larger screen, and will be wrapped in a polycarbonate body shell. The shell may have a brushed metal finish, making it look like the HTC One M8.
D
LG G3 is the MOST BEAUTIFUL smartphone of the year! i saw it ....i saw it... amazing elegant design! i swear ... its beautiful !!!! double flash at the back with rear keys... so nice... same size as s5. polycarbonated removabl...