A leaked roadmap offers new info on the release schedule for Windows Phone updates, which doesn't quite line up with the info we heard about a week ago. Plus, it's a leaked schedule, so take it with a pinch of salt.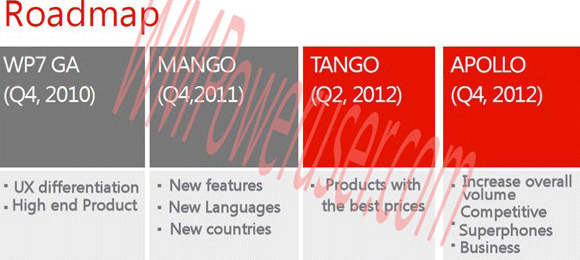 The roadmap has the Tango update arriving in Q2 of 2012. The earlier info had Tango launching at CES (which is in January 2012), but maybe it will be unveiled at CES and the official rollout will begin in the April-June time period.
The tile under Tango says "Product with best prices", which is in line with what we've heard of the codenamed update, namely that it will enable cheaper WP7 phones. It will do that by adding support for a lower resolution. Initial info on WP7 said it will support WVGA and HVGA, so 320x480 is a good guess for the low-end devices.
Tango is also supposed to enable LTE, Microsoft was holding out on adding support for that until there were LTE chips that were power-efficient enough.
Next up is the Apollo update (Microsoft has a confusing naming scheme for these code names). It's supposed to arrive in the final quarter of 2012, with earlier info suggesting that Microsoft will unveil it in June.
Apollo (often referred to as Windows 8) will supposedly add the promised dual-core processor support (or more likely multi-core processors, not just dual-cores), bump up the supported screen resolution and add NFC. Changes to the UI are likely too.
According to the roadmap, Apollo will help increase overall volume of WP phones and make them competitive and also enable business and superphones.
J
Windows Phone experience is real fun! XNA reponse is dandy but with C++ low-level API support in Tango in 2012|Q2, we gonna get some solid games as well...
c
You are funding experiments buying Android. You are funding development of new versions that will never be available to you as the sponsor. I was such sponsor and tell you what - never again.
r
i really like the way WP7 phones perform coz they're too fast! not that laggy when you scroll and browse the phone's contents. the only issue is that they're only stuck with a non-expandable memory. if only they have at least a minimum of 16GB in mem...
ADVERTISEMENTS