Leaked screenshots from iPhone 12 Pro Max unofficially confirm LiDAR and 120Hz display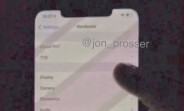 The latest iPhone 12 leak comes from @Jon_Prosser who has corroborated major iPhone leaks in the past. In screenshots and a short hands-on video obtained by Prosser, the iPhone 12 Pro Max will feature the 120Hz refresh rate display after all. This news comes just under two days after reports came, claiming that the iPhone 12 Pro would not have this kind of display due to supply issues.
The leaked screenshots are allegedly from an iPhone 12 Pro Max PVT (production validation prototype) which is a manufactured device that comes off the assembly line after the first run of mass production at full speed. This device should reflect near-final hardware and software.
Camera and display settings for current PVT model of 6.7" iPhone 12 Pro Max

Want video too? pic.twitter.com/fnJk2LELgv

— Jon Prosser (@jon_prosser) August 25, 2020
The first screenshot shows a Camera menu with a toggle labeled "Enable Camera Features" which enables the LiDAR features that use the new rumored camera. Aside from enabling LiDAR, other toggles enabled include an enhanced night mode, advanced noise reduction, bit depth video recording, zoom capabilities, and other video modes.
The second screenshot above confirms that this test production device has a 120Hz refresh rate (allegedly). These aren't technically final production devices, so it is still plausible that Apple could drop the feature for the final hardware.
iPhone 12 Pro details:

True Depth array same size.

Bezels are "noticeably thinner"

Slightly larger display - making the notch "appear" smaller.

Face ID works from wider angles. Even flat on a table.

Sides are flat, but glass has slight curve.

Rear cam module is 10% larger.

— Jon Prosser (@jon_prosser) August 25, 2020
In a separate tweet, Prosser suggests that the notch will stay the same size and that bezels are "noticeably thinner". He also mentions that Face ID works from a wider angle, the phone's sides are flat while the glass has a slight curve, and that the camera setup around back.
The iPhone 12 Pro is expected to be announced sometime next month and reports suggest that Apple may not actually begin shipping the new iPhones until the next month, in October.
Via Twitter
"For peoples who don't want front camera, which are WAY MORE NUMEROUS than you think to believe" Still an irrelevant amount on the global scale. Period. While the poll you linked does indeed have over a 1000 people participating i...
D
Part 2 : 1. If you perfectly realize that what you say have a negative impact and can prevent products that many peoples want from emerging, but still choose to speak up while it give you not a single advantage, benefit, nor not doing so would ...
D
Part 1 : For peoples who don't want front camera, which are WAY MORE NUMEROUS than you think to believe, it could be a no brained if the rest of the phone is decent enough, it is easy to do as any existing phone could simply get a complete ...
ADVERTISEMENTS