Throughout the years Vertu has become synonymous with high-class, luxury and perhaps even refined styling, but performance isn't generally something you would associate with the British manufacturer.
Yet lately the company has realized there is no reason why exclusivity can't come with some functionality as well and there has been a lot of development in this department - most notably the company's Signature Touch line.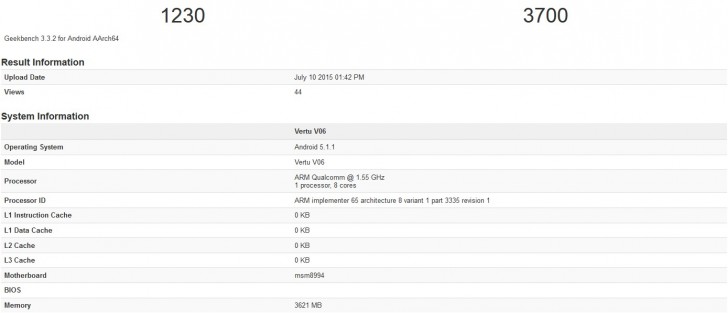 A new benchmark score was spotted online today that seems to show a continuation of this high-tech trend. It details a yet unknown devices, dubbed the Vertu V06, which is running on Qualcomm's high-end Snapdragon 810 chip, along with 4GB of fast LPDDR4 RAM.
Sadly, we don't have any photos or renders of the new device to analyze quite yet, but we can only imagine a flashy exterior, adorned with precious metals, stones and perhaps some exquisite leather. Now, the Snapdragon 810 wouldn't exactly be our first choice for any handset, let alone one that will most-likely cost upwards of €5000.
You really don't want your shiny new status symbol melting away as you play Subway Surfers at that next reception, so perhaps Vertu should go with a leather-heavy exterior, just to be on the safe side.
D
The 810 might not have a very good performance to price ratio, as you need to throttle it. But this is vertu, they are not exactly know for their good perfomance to price ratio. The 810 chips is a bad choice for products that are aimed for the...
M
I know GSMA is almost useless now but how about at least trying to read the article before commenting? "Sadly, we don't have any photos or renders of the new device to analyze quite yet"
u
lazy ppl, get use to the new design!, yeh its different, but its an improvement.