A leaked video from Nokia talks about the Nokia Lumia 610 NFC - that's right, the lowest spec'd Lumia phone might be the first Windows Phone handset to feature NFC. Last year Nokia did say that it plans to integrate NFC in all of its future handsets, but we expected it to start with one of the higher end models.
Anyway, the Lumia 610 NFC seems to be identical to the regular Lumia 610, which Nokia unveiled at the MWC this year, except for the newfound Near Field Communication technology.
The video was pulled by Nokia but someone managed to make a copy of it (it's kind of choppy, but you can still see what's going on). The video shows how the Lumia 610 NFC can be used to simply follow someone on Twitter or pair with the Play 360 speaker that launched with the Nokia N9.
The Nokia Lumia 610 NFC is likely to be announced today - Xavier des Horts (Communications Manager for Nokia France) tweeted the following teaser. The whole "Tap into something" sounds in tune with the video. The teaser is rather vague and there might be videos for other NFC-enabled WP7 phones that didn't leak.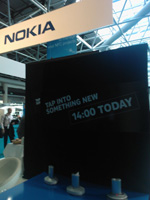 Tap into something new teaser tweeted by Xavier des Horts
Either way, we should know by the end of the day.
f
Nokia flipssssssssssss foldssssssssssssss plz no more smart fones??
?
Hurray india gets 4g !!!!!!!!!!!!!!!!
ADVERTISEMENTS