Windows Mobile 6.5 got less than stellar reviews - ours included - so here's a well-timed leak of WinMo 7 mockups.
These Before and After screenshots were sent by a tipster and they seem to make the differences between the Microsoft current OS and planned upgrade very clear. The top row shows the current state of affairs with Windows Mobile 6.5, and the bottom row - Windows Mobile 7.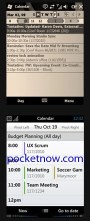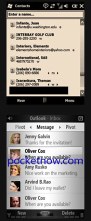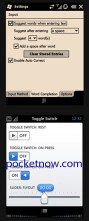 Windows Mobile v6.5 on top, v7 on the bottom
Gone are the flat gray backgrounds and squarish controls, it's all smooth gradients and gloss. With Windows Mobile 6.5 quite disappointed us with parts of its UI design that remained unchanged - some of which can be traced back to Windows Mobile 2003.
Whatever version of the OS these design mockups go into, this will be the first time Windows Mobile has looked modern in a long time. And we like it, even if they were clearly inspired by the competing operating systems... cough, Apple, cough. Finger-friendliness is through the roof compared to v6.5 - just look at the new keyboard.
Here's the kicker - can you spot something missing from the new look? Hint: Windows has had it since forever, though it's no longer labeled "Start" - ops, it slipped our tongue.
f
First, remember that all the fuzz about WinMo revolves around how heavy and tiring and complicated it is to lift the stylus out of your pocket and unto the phone. Or, that it looks stale or that you are not able to shuffle icons (visual gunk) from le...
?
It seems they are using design of S60 5th Ed phones with exclusion of 'Start' button.
T
AWESOME!!! Looks real nice!
ADVERTISEMENTS