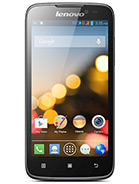 D
The reason why you can't move apps to sd card is that just like windowsphone 8, android jellybean does not let apps to be moved to sd card!!
D
I have this phone right now, The performance for this phone is superb.. less lagg and waiting when you open any app example: facebook,whatsapp,twitter. The camera and the screen is actually pretty good for the price range. This phone only has 512mb of ram but it still can beat other mid range phone easily. The only i don't like this phone is you can't move any app to sd card, All app that you install will saved into internal memory. Hope Lenovo team fix it in the next update :)
g
good: battery can use up to 17 hour on wifi or data,smooth and no lag..internal 2gb,apps storage 2 gb,nice design,fast web browser,good quality video

bad:no auto focus just fixed focus camera,no flash,cant move app to sd card,

good budget phone..white colour will be nice and look premium like galaxy S3..
B
ramESES, 19 Nov 2013I cannot transfer the apps to sd card. I tried many android apps but not totally compatible wi... moreRooted or not ?

Most apps require rooted the handset first, isn't it ?


D
I want to buy that set.What is your opinion?How is the set work.please someone tell
Total of 926 user reviews and opinions for Lenovo A516.