Lenovo has proudly announced that its recent flash sale of the A6000 budget-minded smartphone was a success, selling out 10,000 pieces in just 2 seconds. The marketing stunt, pioneered by Xiaomi and later adopted by emerging brand Yureka, has proven to work miracles on the Indian market and is now being exploited even by the more established Chinese phone manufacturer Lenovo.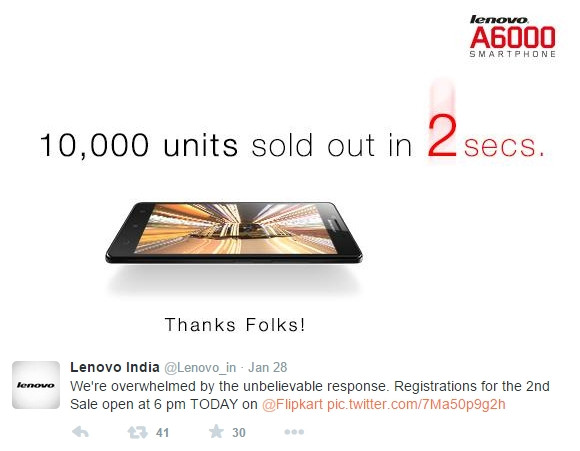 With over 255,000 registrations for the sale on the online store Flipkart, it's no wonder the stock was promptly cleared. The smartphone's attractive price tag of Rs. 6,999 ($113) could be the chief reason for the hype.
That amount of cash lands you a 5-inch screen of 1280x720px resolution in an understated, but reasonably good-looking package. The innards are nothing to write home about, but you still get the popular Snapdragon 410 chipset with 1GB of RAM and 8GB of onboard storage, expandable via microSD.
If you had your mind set on the Lenovo A6000 but were left out of the last flash sale, fret not, for a new batch is coming soon and registrations are already underway.
P
Yes even I got it.great on me with excellent features.the only problem is that it is bit slow in sending multimedia messages on WhatsApp.otherwise, its just awesome.also it does not have gorilla glass protection so a bit risky to handle.
A
Ok...guys got my self this one after five tries...due to one trick... Wan to kno the trick...just awesome one an really...
S
Dear Hkt, kindly clear how to bye it.