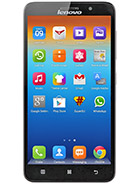 ?
I have used many phones before, but they last relatively short time before move to another device. I have been using this phone for over a year now and its performance is really amazing for day to day application. Really worth the money.
O
I bought this phone few months ago and I am very satisfied. All the apps are working great, it is fast and the UI is OK for me (it is intuitive and works well for me). It is a wonderful workhorse for work and business purposes and it comes at a relatively cheap price.
However, if your purpose is more geared to shooting pictures with the phone, you may not like the camera quality. It is sufficient for taking pictures of documents, business matters, etc. but probably not for high quality family pictures.
About gaming I cannot comment - I never played on it (not a gamer...).
Overall, cheap and very satisfactory for power business users as a "portable office".
D
If you don't like the LENOVO UI why don't you flash another rom? there are many AOSP roms with zero Lenovo-bloatware and they are clean like any Android clean rom should be, they all comes with root/Google apps and MultiLanguge,they all work great with the device.

about the memory? no problem. If you insert MicroSD in with high capacity (I have an old class 4 MicroSD SanDisk 32GB, which is certainly cheap, even less than that will do the work), and you use it for the apps data/camera files/storge all files apart from the apk's file, which are relatively small - max 60MB for a huge apk, for example the Google Chrome and Aptoide apps, which they are my biggest Apk's file installed on my device, they are weigh about 50MB, the rest of them are much smaller. I have around 60 apps and still have 1.1GB for apps installation out of 2.2GB). For the data-apps and other storge files, there is no need for high internal memory, it is clear that more internal is better, but not dealbreaker for me.
D
it's good for the price under 100 dolar,i got it just for watching video , music and a bit of gaming,the touch screen,the screen Display resolution,the sound and the ui are bad but just i say it good for the price
.
JRQGxD, 02 Sep 2014Just use a SD Card as Internal Memory (The option has adaptated in the system menu)... And if ... moreYea. But i would prefer to get A850i for its bigger ROM. I do also notice that this phone is better in its processor but still quad-core is 'standard' enough for me. Thanks for your advice on deleting apps but i wouldn't tell someone to delete their bloatware apps using root explorer as this method could bring harm to someone new to the android developing world. Use NoBloat Free instead. It is much safer... Sorry..im not promoting... >_
J
..., 23 Aug 2014Very low ROM/internal memory. Only 4GB AND will be much smaller because of lenovo's bloatware ... moreJust use a SD Card as Internal Memory (The option has adaptated in the system menu)... And if you dont like the Lenovo Apps just install a Root Explorer because the Lenovo a850+ has a Factory Root and delete them from /system/apps

i
good phone but I'm facing network problem all the time. no network issue seems to be frequent whereas my cheap samsung galaxy y doesn't face that problem at all but this phone is a gaming beast..lag free on high resolution games
.
Very low ROM/internal memory. Only 4GB AND will be much smaller because of lenovo's bloatware apps. So can't download big apps with it and nothing seems to happen after changing the default memory to be use which of course people will choose ext sd card as thier default memory.
L
Yes , very fast. I bought two. The cpu speed is 1.66 GHz not 1.4 GHz
Total of 134 user reviews and opinions for Lenovo A850+.