Moto Z Play and Yogas hands-on
Lenovo & Moto at IFA 2016: Moto Z Play and Yogas hands-on
Lenovo Yoga Book hands-on
The Yoga Book is quite a head turner - after all you don't get to see 2 in 1 convertibles with virtual keyboards everyday. That's right, this one doesn't have a physical keyboard - instead, the entire non-display half of the device is a capacitive touch-sensitive area, that can function in a few different ways, depending on what you want to do with it.
Sure, you can use it for typing, though it's obviously an experience very remote to typing on an actual keyboard. In this case, a keyboard is projected on the pad (Lenovo has dubbed it a Halo keyboard), but you have no tactile feedback as to when a 'key' has been pressed - haptic isn't quite the same. Also, what sense does it make to have virtual nibs on the F and J keys, when you can't possibly feel them?
A similar issue arises when using the touchpad. Putting aside the fact that it's quite small, you have no way of knowing where it ends other than looking at it, and you may often end up 'pressing' the space button.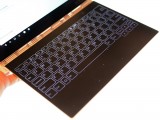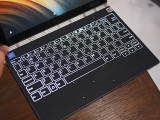 Virtual keyboard has its issues
For all the downsides a virtual keyboard brings, the capacitive pad on the Yoga Book has a few neat tricks that you just can't otherwise get.
The device comes bundled with what Lenovo calls the Real Pen. It has interchangeable tips (ink pen, and pencil, for example) and you can use it to write or draw with actual ink on actual paper on top of the touch-sensitive pad, and the Yoga Book will digitize it for you. There's a clip to hold your paper in place, too.
But if you think paper is obsolete, you can always just go ahead and use the Real Pen directly on the Creative Pad itself. That way the you can use both hands at the same time, drawing with one, and using the other on the display to do stuff around the interface. It's a little counter intuitive to draw in one place, and have the result appear in another, though.
The Yoga Book can be had in one of two OS flavors - either Windows 10, or Android Marshmallow. A cool bit about the Android version is that Lenovo has implemented a window mode support - that should arrive natively with Nougat, but Lenovo apparently has custom-built it in.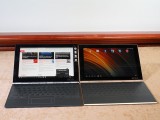 A couple of Yoga Books: Window 10 variant on the left • Android Marshmallow on the right
Also be sure to check out the brief video below for more on the Yoga Book.
Lenovo Yoga 910 hands-on
We also spent some time with the Yoga 910 - a more serious machine by all accounts. This one has a proper keyboard, a usable-sized display, and in its top spec it can be equipped with a Core i7 processor, 16GB of RAM and a terabyte of SSD storage.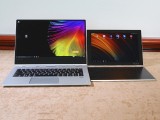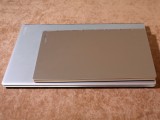 Lenovo Yoga 910 next to the Yoga Book
It has a great display, 4K resolution is obviously very sharp at that 13.9-inch diagonal, and the minimal bezels on three out of four sides really make it stand out.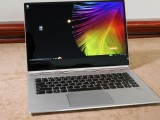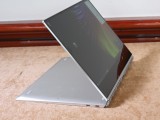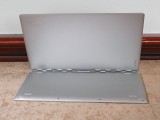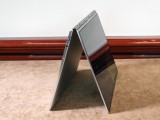 Yoga 910: thin bezels • convertible convenience
After the odd experience on the Yoga Book's virtual keyboard, the one on the 910 was a joy to use, and we appreciated the groove that the dedicated touchpad has to let fingertips know where its boundaries are. There's also a fingerprint reader on the 910 for an extra bit of security.