Final words
The Samsung Galaxy Note5 costs in the whereabouts of $750-$800. The Lenovo K3 Note is about one fifth of that. Is the Galaxy Note5 five times better? We'll leave that question for you to ponder, and stick to the K3 Note - a phablet for the masses.
It doesn't have a metal unibody or a fancy dual-glass design, it's made of plastic. And it's not ashamed of it, instead it's eager to show off in bright yellow attire. It's a well-built device that doesn't feel cheap.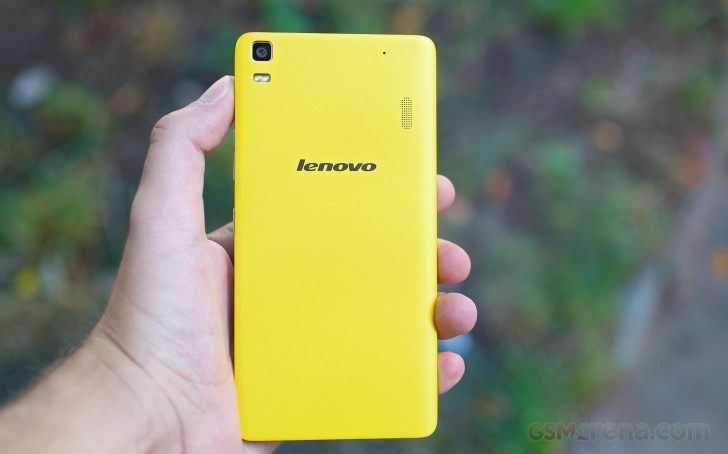 Championing the use of 1080p resolution in the ultra-affordable phablet segment, the K3 Note's display is one of its key selling points. It has deep blacks and sky-high contrast, but it's a bit dim at maximum brightness.
Performance is where the K3 Note truly shines thanks to its hard-working Mediatek chip. It smokes the likes of Snapdragon 61 when raw processor power is called for and graphics performance is towards the top of the class too.
All that might have hurt endurance, as we would have loved to see better scores in the battery department. It's wonderful that the battery is replaceable, but the unimpressive screen-on times mean that you might simply have to make use of that feature.
The 13MP primary camera is another so-so area in the K3 Note's act. It does a good job with color reproduction and exposure, but underdelivers on detail and dynamic range. Casual snaps destined to be shared online will look great, large prints less so.
Lenovo K3 Note key test findings:
Simple, no-nonsense design, sturdy build, removable back
Sharp display with deep blacks and class-leading contrast for an LCD, not very bright though
Battery life is a bit of a letdown - 53h battery endurance rating is only average. The user-swappable battery is a potential workaround.
Rather typical Chinese Android overlay - single-tier, colorful, customizable, with theming support and an iOS vibe, in this case based on 5.0 Lollipop.
Excellent benchmark scores, solid overall and CPU performance, decent graphics.
Loudspeaker scores a Good rating.
Very basic gallery app, little editing possible in-phone; no standalone video player, but wide codec support; music player has plenty of features though, but most require a Lenovo account
Soft output from the main camera on pixel level, narrow dynamic range, but consistent exposure and good colors
1080p videos are lacking in detail
Good selfie cam, detailed images with realistic skin tones
Coming up with alternatives in this equipment grade and price range didn't turn out so hard. It's a short list nonetheless. The FullHD 5.5-inchers start off with the Meizu m2 note/m1 note duo. The m1 lacks a microSD slot, so if that feature is a must to you, it drops out early in the race. It's also running KitKat while the m2 and the K3 Note both boot Lollipop. Both Meizus have sealed batteries, so the K3 Note scores points here and it's also the only one with an FM radio receiver, but it shoots inferior images. The K3 Note has the more convincing chipset as well.
The Xiaomi Redmi Note 2 packs a more powerful chipset and that's about it. Similar build, feature set, battery life, and camera output mean it all comes down to personal preference and regional availability. Minor differences in user interface between MIUI and Vibe might help some decide, and Xiaomi does have a stronger following in the developer world.
The Yu Yureka Plus is another option, but only available in India. This one is powered by a Qualcomm chip for a change - the Snapdragon 615, but otherwise has a very similar specsheet. A red flag should be the 2,500mAh battery.
This ends the list of sub-$200 competitors, we told you it's a short one. For about $80 more than the K3 Note, you can have an entry-level Samsung phablet, and that would mean settling for 720p display resolution. The Galaxy J7 has a beautiful Super AMOLED display, interestingly brighter than the K3 Note's LCD, so if you're into outdoor video watching on your smartphone, it may be worth spending the extra cash.
Only 1.5GB of RAM is on board the J7, however, and it may find multitasking more challenging than the K3 Note. With substantially longer endurance, and a swappable battery, the J7 however outbids the K3 Note's usual trump card. The J7 has a flash to complement its front cam, a bonus to a certain crowd. But again, $80 more in this case means 50% more, so the gap is pretty wide.
For about as much as the Galaxy J7 you could be getting an Asus Zenfone 2 ZE551ML, a basic one with an Atom Z3560 chip with 1.8GHz quad-core CPU, 2 gigs of RAM, and 16GB of storage. It's bulkier and heavier, its battery is non-removable, and it's not really very efficient with its use either. It is readily available across the globe though, unlike the K3 Note.
The Alcatel Idol 3 (5.5) could be found for about $250, but can go as high $330 elsewhere, so it very much depends on where you are in the world. It closely follows the same formula - 5.5-inch FullHD screen, midrange Snapdragon 615 SoC, expandable storage, 13MP camera. It adds a nifty reversible design with stereo speakers, and selfie enthusiasts will enjoy its 8MP front cam.
It's very important to have the proper perspective when considering the Lenovo K3 Note. At $150, a smartphone is bound to suffer from imperfections. After all, even $800 devices fail to meet certain expectations.
With the K3 Note Lenovo has tried hard to make the proper compromises, and for the most part it has succeeded. It's a capable 5.5-inch phablet with a pixel-rich display, dual-SIM connectivity, expandable storage and a removable battery - all at a bargain-basement price.