Simple gallery
The gallery of the K3 Note is a very basic one with no bells and whistles. It can either show all of your photos organized by date or a list of your albums. Tapping on a photo shows it in full screen. Sadly, you can't resize thumbnails using the pinch zoom gesture. Another missing feature is any form of gallery sorting. Whereas many rivals allow you to sort by folders, favorites, people faces or location, that's no possible on the K3 Note.
There are security popups when you try to jump between apps throughout the interface, here's one when trying to access the camera from the gallery. Thankfully, you can dismiss them for good.
When viewing a single image, you get options for sharing and basic editing. Cropping is the most advanced manipulation though, the others are color filters and frames. A few special effects and funny decorations complete the picture and reiterate the editor's social media focus.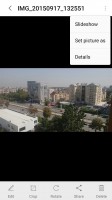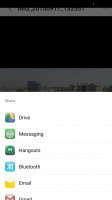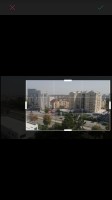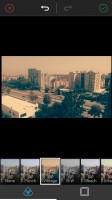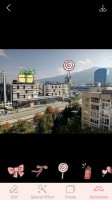 Viewing a single image • basic editing
Video player
The K3 Note doesn't really have a dedicated video player. You access the videos from within the gallery. It did play all sorts of files we threw at it though, DivX, XviD, MP4, WMV, but also MOVs.
Feature-rich music player
The music player is a whole different affair. It's as packed with features, as the gallery and video player are bare. The library is pretty standard-issue, and can be sorted by artists, folders or songs. You can also easily search for your song of choice.
The Now playing interface shows the album art in a circle on a blurred background. Swiping to the left opens up artist information (in Chinese), while swiping to the right gives access to the song's lyrics. Timing can be adjusted, and you can select the color of the current verse. While playing a song the lockscreen displays the album art too and provides basic controls.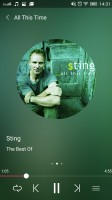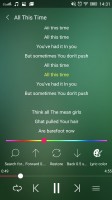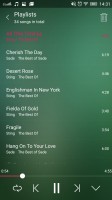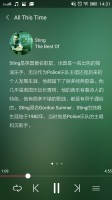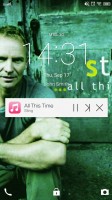 Now playing interface, lyrics, playlist, artist info, player on the lockscreen
Then come the online services that the K3 Note offers. You get access to charts, radios and artist profiles, all in Chinese of course. There's also a song recognition service, but it didn't recognize Sting's Fragile, so it may well be Chinese-specific too. You get settings for sound effects too with a dozen presets and custom effects. A sleep timer up to 90 minutes is also available.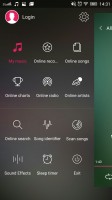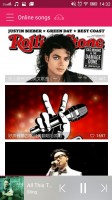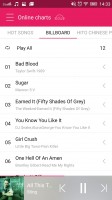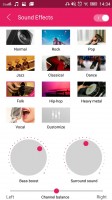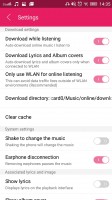 Online services, sound effects, settings
The K3 Note comes with an FM radio receiver. It lacks RDS so you'll need to enter station names manually. You can assign favorites and record off the radio, and you can play through the loudspeaker, but you need to have the headset plugged in so serve as the antenna.