Web browser
The Lenovo K3 Note comes with a custom built-in browser, which is apparently developed by Ask.com. Despite the fact that the phone does come with the Google Play store pre-installed, Chrome wasn't part of the bundle, and neither was Drive, though you can always download those.
Back to the one actually on board. It has all the features you might want in a mobile browser. You can import bookmarks, you can use incognito mode, the search engine is set to Google. You do lose the multi device synchronization that Chrome offers you, though.
Other pre-installed apps
SafeCenter is Lenovo's take on a system-wide phone manager. It lets you clear RAM and storage, monitor data usage, set app permissions and block spam.
It's not the only app that claims to optimize your K3 Note, there's two more. DU Speed Booster/Cache Cleaner is one and adds antivirus protection, connection speeds measurements and battery saving features. Clean Master is the other and it does pretty much the same.
It's just that having three optimization apps doesn't appear all that optimal.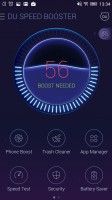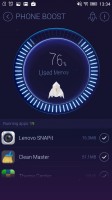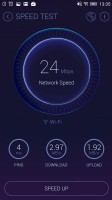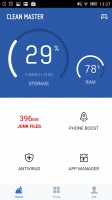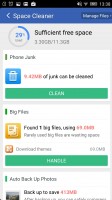 DU Speed booster • Clean Master
There's also a cool looking File manager. It lets you access internal memory and sorts your files into neat categories. You can perform cut, copy and paste operations too, with batches supported as well.
The calendar on board the K3 Note is a custom job as well, and a peculiar one at that. It defaults to a month view and lacks week/year views. Adding an event is as simple as on any other device and birthdays are separate from reminders.
There's a nice clock app with alarms, multi zone clocks, stopwatch with lap timing, and a countdown timer.
There's a simplistic but stylish compass, which can also display your GPS coordinates, and also features a bubble-like level. A sound recorder is present too, with three quality settings. The calculator goes into scientific mode when you rotate the phone in landscape orientation, but the switch can also be forced with a button, for those who like to keep the auto-rotation off.