Introduction
This year, Lenovo had the honor of unveiling Motorola's newest flagship offerings. These flagship offerings are the Moto Z, which aims to succeed the Moto X, and the Moto Z Force, which is a bigger and badder version of the Moto Z.
The Moto Z Force is aimed at succeeding last year's Droid Turbo 2 (exclusive to Verizon in the US, Moto X Force in worldwide markets). Both the Moto Z and Z Force are identical in height and width, and their thickness is the only way to tell the two apart.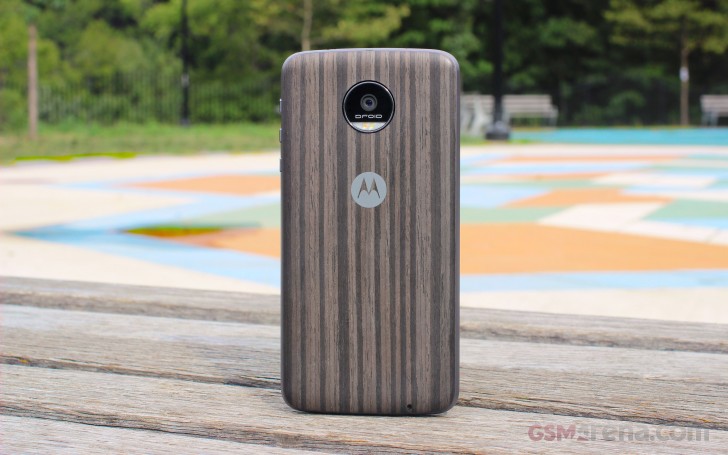 The other difference with the Moto Z Force is the significantly larger battery, the added girth that comes with a larger battery, a higher resolution 21MP camera, and the shatter proof screen that will survive drops of up to 5 feet onto flat surfaces. These specs make the Moto Z Force a worthy competitor to the recently reviewed Samsung Galaxy S7 active.
The Moto Z Force will remain as a Verizon exclusive model in the US and for now. As of this review, there are currently no plans to release the Moto Z Force outside of the US. Making it like the Samsung Galaxy S7 active which remains as an AT&T exclusive and is not available anywhere else in the world.
Key features
5.5" AMOLED screen, QHD (1440x2560 / 535 ppi), Gorilla Glass
Water-resistant nano-coating (splash-proof but not submersible)
Qualcomm Snapdragon 820 - dual-core 2.15 GHz Kyro & dual-core 1.6 GHz Kyro w/ Adreno 530, 4GB of RAM
32 or 64GB of internal storage, microSD expandable up to 2TB
Android 6.0.1 Marshmallow with Moto Enhancements (Moto Voice, Moto Display, and Moto Actions)
21MP camera, f/1.8 aperture, 1.12 micron pixels, OIS, laser autofocus, dual-tone LED flash. 1080p video @ 30 or 60fps, 4K @ 30fps.
5MP front-facing camera with wide angle, front-facing LED flash
Fingerprint sensor
(U.S. Version) - CDMA: 850, 1900MHz, GSM/GRPS/EDGE (850, 900, 1800, 1900MHz), UTMS/HSPA+ (850, 900, 1700, 1900, 2100MHz), LTE Bands
3,500 mAh battery, 30W Moto Turbo Charger via USB-C
Main Shortcomings
No USB transfer cable included (charger and cable are single piece)
No standard 3.5mm audio jack (USB-C adapter is included)
Moto Mods aren't cheap
Exclusive to the US market via Verizon
The Moto Z Force is a worthy competitor to the Samsung Galaxy S7 active as they both play fine with water (Moto Z Force is splash resistant only), they both offer shatter-proof displays, and they both are touted as ultra-durable devices with large batteries.
We've already reviewed the Moto Z, but the Moto Z Force is aimed at a slightly different consumer, but mostly the power user. Paired with the US' best (although, most expensive) carrier, the Moto Z Force Droid also carries a $96 premium over the Moto Z Droid when purchasing from Verizon.






Moto Z in Black & Rose Gold: Front • Rear close-up • Rear • Side • Combo view
The Moto Z Force takes on the Moto Z by offering a larger batter, higher resolution 21MP camera, and the aforementioned shatterproof display. We are curious to see if Lenovo has changed the recipe for creating their shatter-proof display. The previous iteration of this screen, which we saw in the Droid Turbo 2 and Moto X Force had diminished viewing angles, and the plastic-based display lens was more prone to light scratches.
The Moto Z Force works with the same Moto Mods as the Moto Z. Both it and the Moto Z Force have otherwise identical hardware on the exterior, except for the thickness. The Moto Z Force is 25% thicker than the razor thin 5.2mm Moto Z, but it's still quite thin.
Camera performance with the Moto Z was decent, and we are expecting the 21MP camera found in the Moto Z Force to be even better.
Follow us onto the next page to see what's inside the Moto Z Force's retail package.
?
Buy bluetooth headphones
H
Moto Force is a great phone...BUT can't stay operable in cold weather. Took it to Yellowstone National park for Snow Mobiling but Phone kept cutting off. Tried to cut back on several times but Lenova boots up then shuts down. Can't find any spec's on...