SMS
The Moto Z Force Droid that we are reviewing is a Verizon device. Naturally, there are Verizon apps that the carrier might like us to use rather than a default app. More specifically, this is the SMS app developed for Verizon customers. Although the app is rich with features, bells and whistles, the SMS app in question is far too complicated for the average Joe.
This SMS app in question is called Message+, and it offers customers an SMS platform that is cloud-enabled through Verizon's own servers which allow you to send and receive SMS and MMS messages remotely via a desktop or over Wi-Fi. Texting over Wi-Fi isn't a novelty nowadays with more carriers supporting Wi-Fi calling. But, the Message+ app does have the ability to allow Verizon customers to sync and restore their SMS inbox as well as send and receive SMS through Verizon's web portal. Pretty cool.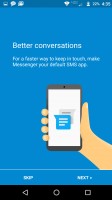 Google's SMS 'Messenger' is pre-installed
Alternatively, Google's Messenger app for SMS/MMS is pre-installed in the Moto Z Force. If customers don't care for the Message+ app, at least Messenger could work out of the box. But most people won't see it because there's already a shortcut on the Home screen dock for Message+.
Telephony
The dialer looks much like the vanilla-Android's stock dialer. Along the top of the dialer are four menus that you can scroll through - Dialer, Speed Dial (favorites), Recents, and Contacts. You can tap the mic at the corner of the screen and say the name of the contact you'd like to call, this will even work if the phone is not connected to a data network, in cases where you run out of data, so you've had to disable the data connection.
Options in the dialer include import/export (as the dialer is also partially made up of the phone app), which accounts to show contacts from, and more phone settings include various voicemail settings, and video calling function (only usable between Verizon devices).
Pre-installed Apps
Our Moto Z Force is a Verizon unit. So we can expect to see a significant amount of bloatware pre-installed on the unit. Here's a breakdown of the bloatware found on the Moto Z Force.
Verizon Apps:
Caller Name ID
Cloud
Device Help
Message+
My Verizon Mobile
Voice Mail
VZ Navigator (paid turn-by-turn GPS navigation... why?)
VZ Protect
Non-Google Apps:
Amazon Kindle
Audible
IMDb
NFL Mobile
Slacker Radio
Unlike our Moto Z unit, the Moto Z Force did not auto-install more bloatware apps after setup.