Lenovo Vibe Shot hands-on
The Lenovo Vibe Shot is the most exciting smartphone the company has brought to Barcelona. We were teased with leaks suggesting exclusive features and premium build in the weeks leading up to MWC and we were eager to get to play with it in person.
The smartphone is targeted at photography enthusiasts and doesn't hide it. It packs a 16MP main camera with triple-LED flash, optical image stabilization, and manual controls. Design throwbacks from rangefinders of old can also be spotted.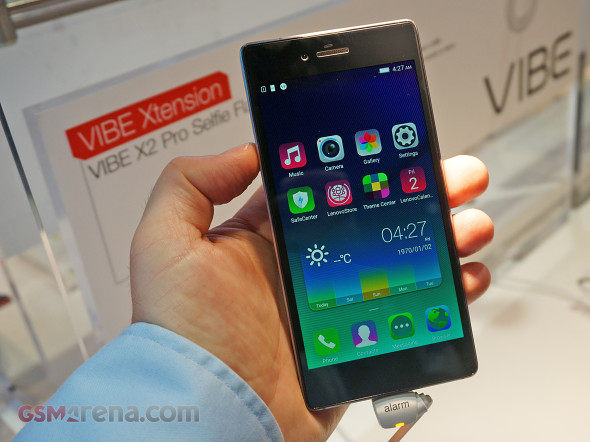 The Vibe Shot comes with a 64-bit Snapdragon 615 chipset with 1.7GHz octa-core processor and 3GB of RAM, so performance is a non-issue. On the front you are greeted by a 5-inch display of FulHD resolution, utilizing an IPS panel. The smartphone boots Lollipop out of the box, with the company's home-brewed Vibe UI on top.
The display produces punchy colors and is sharp and bright when viewed head-on. On the downside, the screen is very reflective which impacts viewing angles in a negative way. The coating is also rather prone to smudging.
Build quality is very good, but has its flaws. For starters, the outer frame is finely-machined, feels great in the hand and exudes quality. The metal strip on the back, however, is less impressive in terms of craftsmanship, at least in the demo units. As you can see for yourselves the back is also a fingerprint mess. Overall though, the device is solidly put together.
The frame is home to the dedicated photography controls. A rarity among smartphones of late, the two-stage shutter release button is a welcome sight. Lenovo's implementation may need a bit of tweaking before official launch though, as the button in the demo units was much too stiff and had little travel.
Next to the shutter release, a settings slider lets you choose between Smart and Pro modes. Smart is your average Auto and offers little control other than flash modes. Pro is what we're here for, and it brings a handy list of settings on the left, including exposure compensation, ISO, white balance and focus modes. No video recording is available with the slider in this position, though.





Lenovo Vibe Shot physical camera controls • Camera app interface
The Vibe Shot sports a 16MP BSI sensor, with a 16:9 native ratio and the images come out at a rather odd 5,328 x 2,997 pixel resolution. If you prefer the more traditional 4:3 aspect ratio, you'll end up with 12MP stills.
We shot a few samples and they appear to contain plenty of detail. The Vibe Shot also handled with finesse the difficult lighting conditions in the venue in terms of white balance. The triple-LED flash was also spot-on. We'll reserve judgement until we get to review a proper production unit in our studio, but the outlook is promising.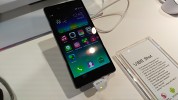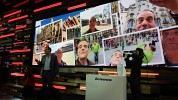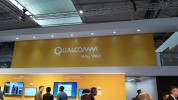 Lenovo Vibe Shot camera samples
Lenovo A7000 hands-on
It's not all about photography and Lenovo brought in a more generic balanced member of the midrange. The A7000 is a 5.5-inch phablet sporting 720p resolution on its IPS panel.
The smartphone packs a Mediatek MT6572 chipset with a 1.5GHz octa-core processor and 2GB of RAM. At has no major omissions on paper and comes with LTE connectivity, expandable 8GB storage and 2,900mAh worth of battery. A current Android 5.0 is on board, too.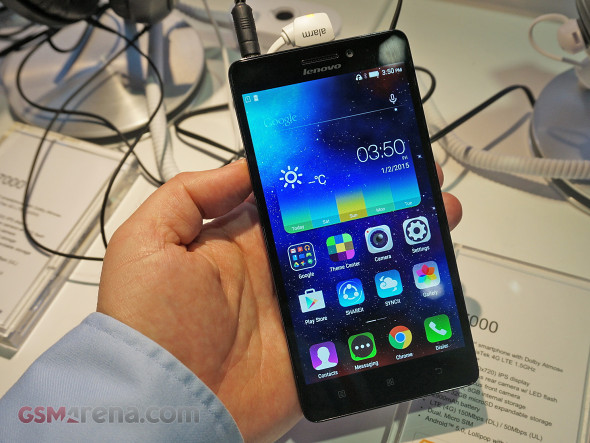 The head-turning feature on the A7000 are the Dolby ATMOS certified audio enhancements which emphasize sounds and offer broader dynamic range, the company claims. We couldn't test it ourselves but got a brief hands-on time with the smartphone.
It's made entirely of plastic, but it's the preferable matte variety, so the back doesn't instantly turn into a smudgy mess. The surface is also reasonably grippy and handles well, for a 5.5-inch device, that is.
The display is obviously not as sharp as the one on the Vibe Shot, but 720p on a 5.5-inch diagonal is still acceptable, given the price segment. It's an IPS unit as well, with all the positive implications including accurate colors and wide viewing angles.