Lenovo Tab 2 A10-70 hands-on
Lenovo isn't short on tablets here in Barcelona, and we got to play with two Android slates as well as a Windows 8.1 offering.
The top model that the company has brought is the Tab 2 A10-70. Behind all this alphanumeric disguise hides a full-size slate with a 10.1-inch IPS display of 1,920 x 1,200 pixel resolution. The list of innards goes on with a Mediatek chipset with quad-core processor, 2GB of RAM and 16GB of expandable storage.
The tablet boots Lollipop out of the box and will have an LTE version as well. It's also Dolby ATMOS enabled and has a strip of speakers running along the entire length of the back.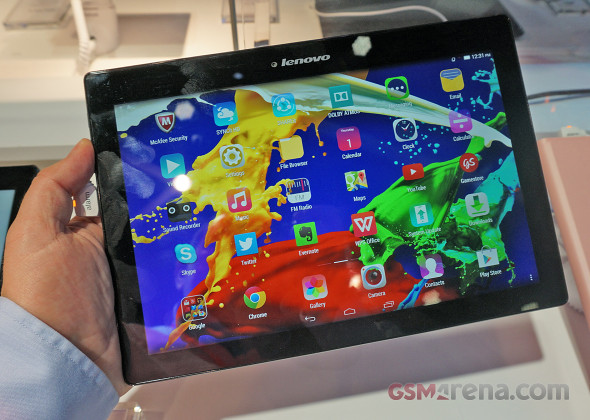 In the hands, it's a pretty hefty slab, thanks in no small part to the 7000mAh battery. On the positive side, the display is bright and sharp, and lends itself well to sideways viewing. The glossy coating is very reflective though, and is a fingerprint nightmare.




Lenovo Tab 2 A10-70 in the hands
Lenovo Tab 2 A8 hands-on
Moving down the lineup, we are greeted by the Lenovo Tab 2 A8. We've learned our lesson, and recognize by now that the 8 denotes screen size. Indeed, the Tab 2 A8 comes with an 8-inch IPS display of 1,280 x 800 pixel resolution for a decent density of 189ppi.
Computing power comes courtesy of a Mediatek chipset again, only a single gig of RAM is on board and storage is either 8GB or 16GB, expandable too. This one runs KitKat, and is available in Wi-Fi only and 4G version as well.
While the screen isn't as sharp as the one in the Tab 2 A10-70, the colors are equally great and only fade slightly if examined at an angle. The back of the 8-inch tablet has a similar texture to the one on the 10-inch offering but subjectively the black color looks cheaper and is more revealing of oily finger marks.
Lenovo MIIX 300 8" hands-on
The MIIX 300 8" (whether that's mee-x or M-two-X is questionable) runs Windows 8.1 and unsurprisingly features an 8-inch IPS panel of 1,280 x 800 resolution. It will presumably come in a number of different configurations with an Intel Atom chipset, up to 2GB of RAM and up to 64GB of internal storage.




Lenovo MIIX 300 8" in the hands
Lenovo Pocket Projector
As a slight distraction from the smartphone/tablet theme, we checked out the Lenovo Pocket Projector. The compact device weighs merely 170g and can project an image up to 110 inches in diagonal. The projecting part can be rotated around the other half which acts as a stand. It comes with DLNA and Miracast Wi-Fi connectivity and battery is rated at 2.5 hours, enough for a full-length movie or a PowerPoint presentation.
You can't do miracles at this size though, and the Pocket Projector has its limitations. Resolution is rather low at 854 x 480 pixels and brightness is only 50 lumens, so daytime use is very much out of the question.