(Project) Tango
Google's Tango technology makes use of the three camera sensors on the back of the phone, which work in tandem to help the phone keep track of its position relative to the other physical objects in your surroundings based on the collected spatial information and the feedback from the built-in gyroscope.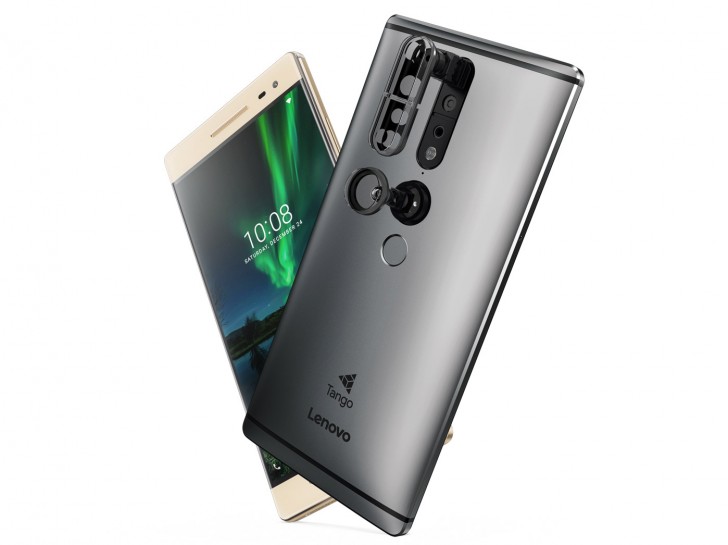 The sensors that make up the Tango camera are: a depth sensor for sensing how far objects are, an IR emitter which shines IR on the subject that the IR camera sees, and finally, a 16MP camera, which is needed as a canvas on which to overlay AR (augmented reality) elements on the screen.
Lenovo AR Camera
There are only two Tango-enabled apps that come pre-installed, the Measure app, and the Lenovo AR camera. To access the AR camera, you must find the option in the camera modes of the standard Camera app.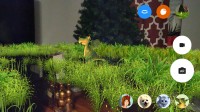 AR camera viewfinder, you have four choices
From here, you can choose between 4 scenes: fairy garden, puppy, kitten, and dragon. Each scene has buttons that change depending on which scene you're on. For example, you can throw fish to the kitten or a bone to the puppy.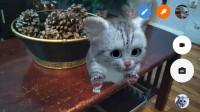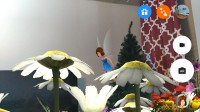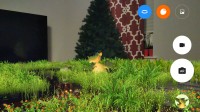 Kitten scene • Fairy scene • Dragon scene
You can look around these scenes, interact, and you can use the shutter buttons to either snap a shot or record a small video of the captured scene. In environments with less light, the camera stutters more as the shutter speed is reduced to compensate for letting more light in. For best results, use the AR camera outside in daylight.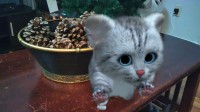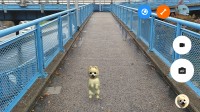 Still image captured from AR camera: Inside • Outside
You can see what Tango looks like on video from our first look clip, which we published a few days ago.
Measure
Developed by Google, the second pre-installed Tango-enabled app is a simple app that takes measurements by calculating the distance between the two points or lines chosen, while also taking into account how much distance the phone has moved through physical space to take the second point of measurement.
That said, we didn't feel like the measuring app worked very well. You'll need to be in areas with enough light to measure more accurately and while it does do a good job of finding 3D planes on walls, it does not do as well with measuring objects, especially if there's a wall plane close enough behind the object.
It's hard to pinpoint the anchor points where the measurement will start which results in inaccurate measurements in the first place. Our advice: don't rely on this thing to take measurements for any kind of project, because without a guaranteed range of accuracy, you have no idea if the measurement is 1 inch or 10 inches off.
It doesn't do a good job with anything remotely reflective either. Measuring this 32-inch TV resulted in a measurement of over 50-inches because it thought the second measuring point was what it saw in past the reflection. Another possibility of why it was not accurate could be because the black of the TV tends to absorb light rather than reflect it (Tango relies on IR reflections).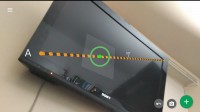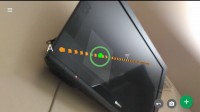 Measuring a 32-inch TV • Inaccurate measuring point
After trying the Measure app, let's just say we'd rather rely on the accuracy of a tape-measure.
WayfairView
Wayfair is an online retailer that sells all kinds of home furniture and decor. The WayfairView app is one of the more useful Tango apps if you love to shop for furniture. The Tango setup lets you take a peek to see what your home would look like with that new table or footstool.
To find an item, tap the search button and type or browse for whatever you'd like to see in your home. A simulated 3D version of the item will be inserted into your room via the camera's viewfinder.
Then, depending on the item, tap a spot on the floor to place a piece of furniture, or a spot on the wall to hang up a nice picture frame. For best results, the area where you will place your "virtual" furniture should be clear of clutter.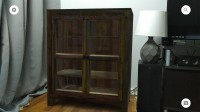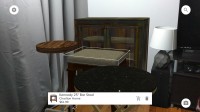 Placed item • Selected Item can be added to cart
If you like what you see, you can tap a button to add the item to your Wayfair shopping cart. While you can display more than one item in your private showroom, once you switch out of the app, your items will either be thrown back into the room, not necessarily where you placed them, or just completely disappear. This also happens every time you add something to your cart, as adding an item to the cart happens in the separate Wayfair app.
The app was not able to bring my placed items back, in fact, it was asking for us to point to an open spot on the floor. If adding an item to your cart makes them all disappear from the viewer, people will be discouraged to even try to decorate with the app.
Lowe's Vision
Lowe's is one of Tango's biggest partners. The hardware store will also sell the phone this Holiday season, so that means it should be in Lowe's stores by December. That said, the tutorial is quite confusing and the interface is not straightforward at all. The idea is that you can save a room with its measurements, and added items for later viewing, or to return to the room and load it right up.
In addition to the difficulty of pointing accurately to an anchor for a measuring spot, the Phab2 Pro also sometimes has a hard time trying to piece the room back together if you leave the app. Also, you can only save pictures that you take with the viewfinder. We wished we were able to save all measurements, items, and shapes to a room that could recognize the same room and load it all up where it goes. Tango is not quite there yet, it seems.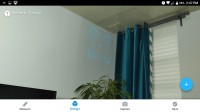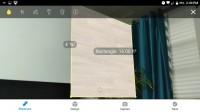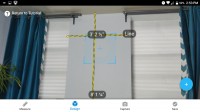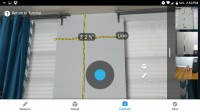 Selecting a wall • Adding wall paneling • Adding dimensions • Capture tool
We appreciate the thought that went into these apps, but so far, we are not impressed with the usability or reliability of any of these applications.
Magic Plan
If you want an app to make floor plans with, Magic Plan is pretty good at making rough floor plans on the fly. You can plan out entire buildings and homes, and you can export them (provided you signed up with your email) as PDFs, JPGs, SVG, HTML, and even DXF, a versatile format used with 2D design software.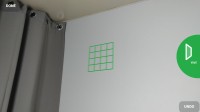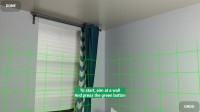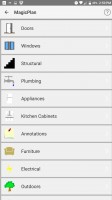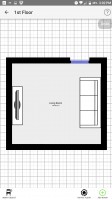 Adding walls • walls detected • add elements to your floor plan • sample plan
Dinos Among Us
You would think an app made by NYC's American Museum of Natural History would be chock full of informative virtual exhibits with an extensive selection. This is not the case. It only shows us four different types of dinosaurs in two ways. 3D models of polygonal figures, and wall-mounted exhibits that you can virtually read off the wall.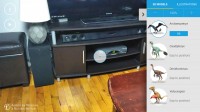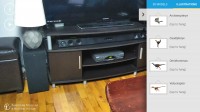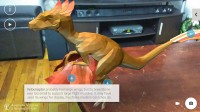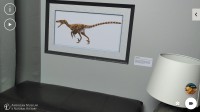 Four dinos to choose from in 3D or 2D virtual exhibits
You can take a photo or video of the virtual exhibit, but there's not much else you can do. The information section of the app mentions: "Dinosaurs Among Us is an experiment in augmented reality." Sadly, this is only a sample.
Hot Wheels Track Builder
This game uses the Tango camera to track you in 3D space instead of simply which direction you are facing. You navigate around a virtual room where you can play with Hot Wheels tracks and cars. It's nothing out of this world. But if you grew up with Hot Wheels tracks, you might enjoy this walk down memory lane. And the best part is you don't have to clean up orange tracks or worry about stepping on tiny metal cars.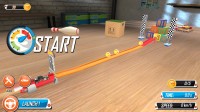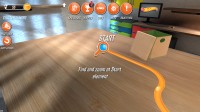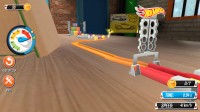 HotWheels track • Tutorial prompting you to zoom • Car flying off the track
These are just a few of the apps available for Tango right now. Tango is by no means ready for the spotlight. It is an experimental platform with lots of possibilities at this point, and a couple of useful third-party apps like Magic Plan (mentioned above).
One thing the platform needs is more polish. There is a considerable amount of lag when rotating the phone (mostly by accident) while using a Tango-enabled app. Another thing worth mentioning is that leaving a Tango app for a short while is a pain if you intend to resume using the Tango app in question. Tango apps don't switch back quickly, it takes about 3 to 5 seconds (sometimes more) to resume any Tango app.
Perhaps deciding to optimize a Snapdragon 652 CPU for the first Tango phone was not a great call, but even without further optimizations, a Snapdragon 820 might not perform much better for the platform.
Pre-installed apps
We really appreciate when a phone comes with minimal software installed, or when a phone comes with pre-installed apps that serve a useful purpose. The app list on the Phab2 Pro is not too extensive, nor does it include anything of the bloatware nature.
The most notable pre-installed apps are:
AccuWeather
Dolby (sound equalizer)
McAfee Security (must manually activate to use)
Measure - Tango enabled app to estimate a dimension
Discover Lenovo Phab2 Pro - 'Try Tango' and check specs
SHAREit - Lenovo's app to beam files from and to your PC
SYNCit - Lenovo's cloud backup for calls, texts, and contacs
Tango - A launcher for all Tango-enabled apps
Accuweather for some reason is pre-set to default in San Fransisco. As a result, we were getting warning advisories for high-tides at the beach, even though the review unit was being used in New York City. The only way to get rid of these San Francisco notifications is by manually adding a new city and setting that new city as the default city. This was the only pre-installed app that messed with the software experience.
Otherwise, the Phab2 Pro comes with the standard Google app suite including: Google Calendar, Chrome, Docs, Google Drive, Gmail, Google App, Hangouts, Google Maps, Google Messenger, Google Photos, Play Movies and Play Music, Sheets, Slides, and YouTube.