Lenovo S5 Pro teasers show a dual camera, question the image quality of rivals
So, they will be different phones after all – the Lenovo Z5 Pro, a quad camera flagship, launch after the Lenovo S5 Pro, which will be unveiled on October 18. The S5 Pro will have only a dual camera on its back. We saw camera samples from the telephoto camera and now we have more details.
The info comes from some aggressive teasers. The first one calls out the Xiaomi Mi 8 Lite for not having a telephoto camera. The next one questions the low-light capabilities of the Honor 8X when it doesn't have a 20+12MP camera like the S5 Pro does.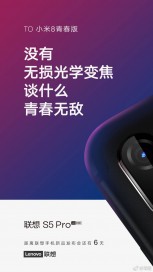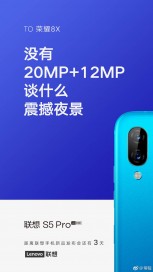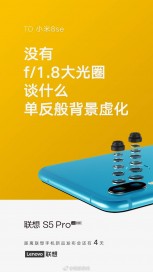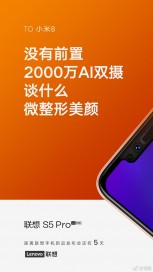 Lenovo S5 Pro teasers question the camera qualities of high profile competitors
Xiaomi is the target of the next two teasers. The Mi 8 SE is criticized for not having a bright lens – f/1.9 vs. Lenovo's f/1.8. Next, the AI capabilities of the flagship Mi 8 are called into question. The S5 Pro will seemingly have a dual selfie camera with a superior selfie mode powered by AI.
Those are fighting words from Lenovo, calling out two of its biggest competitors. The Lenovo S5 Pro will have a notch as you can see, but the company also has the Lenovo Z5 Pro incoming, which promises that there will be no notch.
l
When was this photo taken? I thought atomic bomb days ended after 1945 or something....
J
I have been waiting 2.5 years for a succesor to my ZUK Z2 Pro. It was faster than the S7 at half the price, I hope the Z5 Pro follows suit.
?
Having IBM and Motorola will no doubt enough amunition to challenge apple face to face. Lenovo phone quality it self on par with samsung before purchase Motorola. I have no idea why lenovo sell drop. Marketing dept is so weak
ADVERTISEMENTS