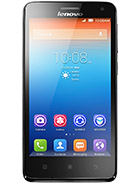 L
Kee Z, 01 Mar 2014Im planning to buy s650 but yesterday I read an article told that Lenovo will launching s660. ... morepls bcareful, thr is ap set for lenovo phone, remember dn buy ap set..it is going to get this phone next week or maybe the 2nd week in malaysia..be patient
L1824
The battery is pretty good @ 3000mAh why is the talktime only 10 hours ? Is that spec released by lenovo or calculated by GSMArena ?

Also, on 3G network, HSDPA 850 / 1900, is this fine ? What is the standard of 3G network that works in India and in Canada ?
I
So are there two models, with one supporting 850/2100 and the other 900/2100 or is that one model that supports both but they've just split it across two lines here for some reason?
D8
Anonymous, 27 Feb 2014can any one suggest me about this phone and the lenavo company..S650 or S660 or A880 models have 8GB internal memory and Camera 8MP except A880 only got 5MP but still valueable for ur money spend.
K111
Anonymous, 27 Feb 2014can any one suggest me about this phone and the lenavo company..Lenovo is a great budget phone. Please buy original Lenovo models only. Some of models like A766 is not official model from the original Lenovo manufacturer but it available at the market. The easiest way to know certain models are ofdicial models feom Lenovo is, you can search a model in Lenovo website or gsmarena website.
K111
Im planning to buy s650 but yesterday I read an article told that Lenovo will launching s660. Expected release June 2014. Still far to go but im be patient to wait for another 4 months ahead. Who know exactly when this model will launchong in Malaysia?
?
for all those who dont know about lenovo its simple. They used to make parts for IBM thinkpads and in 2005 Lenovo bought IBM and now they are the world s biggest computer provider for offices mainly. now they are also getting on the high street market and making laptops,tablets and mobile phones.
r
It's good Brand company good service & better than indian brand ...
Total of 1831 user reviews and opinions for Lenovo S660.