Software and Performance
The Vibe X3 runs on Android 5.1.1 Lollipop. Lenovo made a note of scaling back on its custom Vibe UI for this one and going for a more stock look. Right off the bat, you will notice that the company now has a standard launcher with an app drawer, similar to the Google Now Launcher, whereas previously all the apps would appear on the homescreen. The pop-up dialogues in the UI also have the native Lollipop look to them.
Beyond that, however, things are a bit disappointing, as it is very much the Vibe UI but with a white and gray theme designed to mimic stock Android look. The way Vibe UI is trying to replicate the vanilla Android experience is equal parts amusing and frustrating. Just imagine all the time the company must have spent trying to make its UI look like stock Android when it could have just used... you know, stock Android.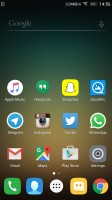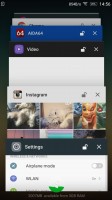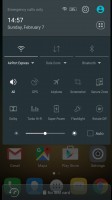 The Vibe UI on the Lenovo Vibe X3
Granted, the UI does look better than before, an area that has traditionally been a weak point for Lenovo phones. Some of Lenovo's customizations are welcome too, such as the expanded notification center. Hopefully, the company will move closer to stock Android in the future while maintaining the additional functionality that it has to offer.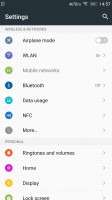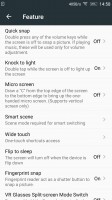 Some of the settings offered by the Vibe X3
As for the performance, the phone performed very well in day to day tasks. The Snapdragon 808 is not exactly a flagship chipset, but it has more than enough power for your messaging and social networking apps to work without a hitch. Where it falters is in gaming, an area where it could have used some more juice. This is especially true for heavy 3D games, which don't run as smoothly as you'd like. Lighter 3D games and 2D games are not an issue.
GeekBench 3 multi-core
Higher is better
Meizu MX5
5110
Meizu m1 metal
4825
Xiaomi Redmi Note 3
4537
Lenovo K3 Note
4067
Lenovo Vibe X2
3647
Lenovo Vibe X3
3644
LG G4
3509
Xiaomi Mi 4c
3321
AnTuTu 6
Higher is better
Lenovo Vibe X3
66762
LG G4
60858
Xiaomi Redmi Note 3
45474
Basemark OS 2.0
Higher is better
LG G4
1584
Lenovo Vibe X3
1413
Meizu MX5
1252
Xiaomi Mi 4c
1233
Meizu m1 metal
1039
Xiaomi Redmi Note 3
1018
Lenovo K3 Note
984
Basemark X
Higher is better
Lenovo Vibe X3
15599
LG G4
15090
Xiaomi Mi 4c
12096
Meizu MX5
10403
Xiaomi Redmi Note 3
8540
Meizu m1 metal
8526
Lenovo Vibe X2
6512
Lenovo K3 Note
5656
If you're worried about heating, there's not much to complain about. While the phone does get nominally warm during intensive games, as you'd expect from something pushing that many pixels on screen at once, it's never hot per se, and is hardly a cause for concern.
Camera
The Vibe X3 has a 21 megapixel Sony IMX230 sensor with hybrid autofocus, which has added phase detection autofocus. It's, essentially, the same sensor as on the Moto X Style but the results aren't quite as good, a fact we are willing to attribute to Lenovo's take on image processing.
The camera often blows highlights in brightly lit situations and Lenovo's artistic HDR modes are quite useless as they turn the image into a Jackson Pollock painting. In low light, focusing is a hit or miss, and the image quality itself is not satisfactory. The camera makes you work a bit to get the best out of it, which not everybody would have the patience for. Lenovo's camera app, however, is pretty good, and better than what you find on Motorola or Nexus phones.
The phone also supports 4K video, and while the quality is decent, it's not an exception and we have seen better before. The lack of OIS also doesn't help, either.