Lenovo Yoga Tab 13 goes global, the smaller and cheaper Yoga Tab 11 and Tab P11 Plus join it
Following the launch of the Yoga Pad Pro 13" in China, Lenovo has announced that the unique tablet will become available in Europe, the Middle East and Africa in June for €800 and in the US in July for $680. Note the slight name change to Yoga Tab 13.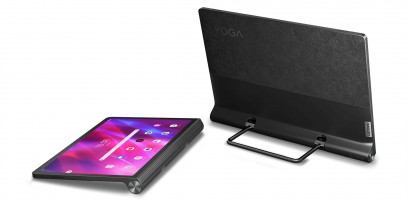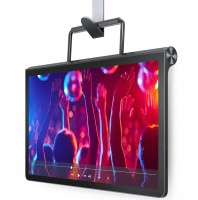 Lenovo Yoga Tab 11 (left) and Yoga Tab 13 (right) • Yoga Tab 11 hanging out
If that 13" tablet is too large (or too pricey) for you, there's also the Lenovo Yoga Tab 11, which will start at $320/€350. It will be available in EMEA in June and in the US in August. You lose the microHDMI in port and the Snapdragon 870 chipset, but the 11" slate is not without its charms.
It is powered by a Helio G90T chipset and is available in Wi-Fi only and LTE versions. The 13" model is Wi-Fi only. This 12nm chip (TSMC) features 2x Cortex-A76 cores and a Mali-G76 GPU. The base configuration has 4GB of RAM and 128GB storage (UFS) and there's an option to double both numbers (8/256 GB).
The Yoga Tab 11 has an 11" LCD with 2,000x1,200px resolution (15:9). It matches the larger slate with 400 nits of brightness and Dolby Vision support, but it lacks HDR10. Either way, you're getting 60Hz refresh rate.
On the plus side, the smaller tab offers the same audio experience with four JBL speakers (5 cc audio chambers) with Dolby Atmos support and Lenovo Premium Audio Solution.
The 7,500 mAh battery may have smaller capacity, but with a smaller screen to feed it promises 15 hours of video playback (up from 12 hours). Charging is done at 20W (down from 30W). Also, the tablet is lighter, 655g vs. 830g.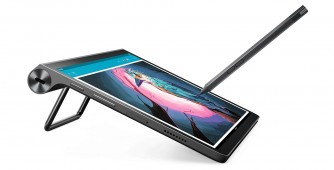 The Lenovo Precision Pen 2 is supported (sold separately) • Google Kids Space
The Lenovo Precision Pen 2 is supported for those with artistic abilities. The stainless steel kickstand/hanger can be used to position the tablet in various orientations, whatever suits the need, be it watching Netflix or doodling your next masterpiece.
The Lenovo Yoga Tab 11 features Google Kids Space (with Family Link parental controls) for a curated library of kid-friendly content.
A more work-oriented offering is the new Lenovo Tab P11 Plus, a spruced up version of the Tab P11 from January (though it's not as fancy as the Tab P11 Pro). The Plus model will be available in EMEA from July for €300 and in the US in August for $260.

Lenovo's P11 lineup with the optional keyboard: Tab P11 Pro (left), Tab P11 Plus (center), Tab P11 (right)
The Plus model swaps out the Snapdragon 662 (11 nm, 4x Cortex-A73 based cores and Adreno 610) with the same Helio G90T chipset as the Yoga model (12 nm, 2x A76, Mali-G76). As before you get three memory options: 4/64 GB, 4/128 GB and 6/128 GB (LPDDR4 RAM, a microSD slot is on board).
This tablet uses the same 11" IPS LCD (2,000 x 1,200 px) as the vanilla model. It has 60 Hz refresh rate, brightness of 400 nits and covers 70% of the NTSC color space. The tablet alone weighs 490g.
We say alone as the Tab P11 Plus is ideally paired with the Lenovo Keyboard Pack for added productivity. Though Google Kids Space is supported as well, so it's not all about work.
The 7,500 mAh battery is good for 12 hours of streaming video and you get quad speakers with Dolby Atmos to listen to (without JBL's involvement this time around). The battery charges at 20W.
Lenovo also unveiled the third generation of its small, affordable Tab M7 and M8 tablets. The Lenovo Tab M7 (3rd gen) will start shipping in June at €120 (July for the US, where it will cost $110, though B&H lists it at $90). The M8 is coming later this year, though it will miss the North American market. Pricing is TBA.
The M7 (3rd gen) has a 7" IPS LCD with 1,024 x 600 px resolution and brightness up to 350 nits. The Wi-Fi only model is powered by the MediaTek MT8166, the LTE Model gets the MT8766 instead. The MT8166 has four Cortex-A53 cores and an IMG GE8300 GPU.
This is an Android 11 Go Edition slate, so don't expect miracles in terms of performance. It has only 2 GB of RAM and 32 GB storage, which you can expand with a microSD card. Additional features include Wi-Fi 5 (ac) connectivity, a microUSB port for charging, a 3.5 mm audio jack and a 3,750 mAh battery that is good for up to 10 hours of web browsing or streaming video. You get a single speaker with Dolby Audio (not Atmos).
The Lenovo Tab M8 (3rd gen) is notably fancier with a Helio P22T chipset (8x A53 cores, IMG G8320 GPU). And it has an 8" IPS LCD with 1,280 x 800 px resolution (350 nits) plus a front-facing speaker with Dolby Atmos. Cheap as these are, both M-series tablets have an all-metal build.

Lenovo Tab M8 (3rd gen) supports Google Assistant's Ambient Mode with the Smart Charging Station
Finally, the company unveiled the Lenovo Smart Clock 2. It has a 4" IPS LCD touchscreen and a cloth exterior in Shadow Black, Heather Grey and Abyss Blue. There's no camera on this one (which is touted as a privacy feature).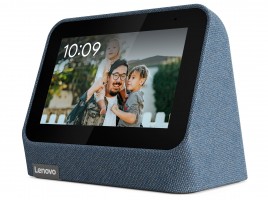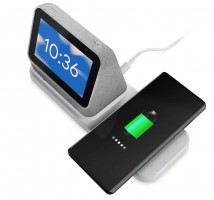 Lenovo Smart Clock 2 • with the optional wireless charging pad
Besides showing you images from Google Photos and playing some tunes (with 3W front-firing stereo speakers), this clock can also be a wireless phone charger with the optional dock. The dock also doubles as an ambient nightlight.
The Smart Clock 2 will be available in August at €90.
?
$680 for the Yoga Tab 13? And here I thought that the $549 UPERFECT X Pro detachable screen lapdock was already way too expensive in the first place. I like that hook idea a lot, but I think that I'll stay with lapdocks.
t
i find the g90t rather slow and stuttery for my pretentious needs of having everything work flawlessly without lag, you know, like it should be... android gets cheap phones because they cheap out at basic common sense like having a smooth experience ...
?
Unless Apple with the iPad Pro I agree, most laptops for that amount of money will probably break before they loose update support for Windows (or Linux)
ADVERTISEMENT