LeTV creates new record, sells over 1 million smartphones in November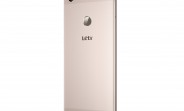 Back in August this year, LeTV became one of the fastest growing Chinese smartphone manufacturers after it was revealed that the company sold 1 million smartphone units in three months. Now, it is being reported that the company has broken its own record by selling a million handsets in just one month.

Of the million smartphones it sold in the month of November, around 780,000 were Le 1s units. For those who aren't aware, the Le 1s is the company's latest smartphone which was made official back in October this year. Just a week after the unveiling, LeTV revealed that it received over a whopping 11 million pre-orders for the device.
In addition to the Le 1s, the company's 1 Pro and Max smartphones also contributed in the latest achievement - a total of 100,000 units of these two devices were sold last month.
a
Hello Mark, I'm also a Le phone's fan, still considering to buy Le 1 pro x800. Can i know about the phone that do you feel hot after using a long period of time? or there is any problems that you are facing? If there are any pros of the phone that co...
F
I just bought the LeTV Max 128 and the 68 GB from www.honormi.com shipping wasn't bad too them 3 days to ship it out and only 2.5 days to arrive to Atlanta, GA. We are loving the phones so far. The site offers free gifts but they were not in the bo...
d
More phones like these should come to North America...