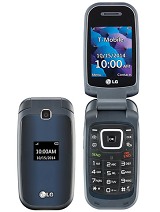 M
Excellent simple phone. Speakerphone is loud and clear. There is the option to block/reject specific callers which is a plus. There isn't a 3.5mm connector as indicated however this isn't a big deal since I don't use it. Micro-USB earbuds with a microphone can be purchased and used if you don't mind things in your ears. The phone does support email with a data plan.

The phone USB data connection option to update the phone with LGMobile Support Tool can be enabled by accessing the hidden menu with 3845#*450# for LG 450 or 3845#*441# for LG 441 (Canadian version), 448 etc.. for other model numbers. Make sure the USB cable isn't plugged in the phone. The phone doesn't seem to support data(picture/video) transfer from the phone to the computer and therefore bluetooth seems the only option to transfer files from phone to computer.

The phone can be unlocked by purchasing an unlock code by a reputable ebay seller and accessing the hidden menu for unlocking the network/sim locks completely by entering *#865625#

Overall. This simple phone has exceeded my expectations however look elsewhere if you're looking for a phone for web browsing.
Total of 3 user reviews and opinions for LG 450.