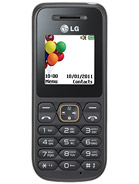 s
i had optimus prime500, n i want to buy lg a100 too, it's the best phone for basic use, i'm aiming samsung e1110t or e1160 before, it's have 1000mah battery, e1160 have wireless radio, 1000mah battery, torch light, n dual speaker, but LG A100 have 3.5mm jack means, i can plug my headphone to this handset... battery not bad 950mah, and keypad super comfort... :D :D :D
G
I walked into the showroom to buy a Samsung solar 1107 for an elderly person in the house, but it was out of stock. The salesman showed me this and I was bowled over.

1) It is colour and dirt cheap at Rs 1,200.
2) The buttons are so convenient and responsive, reminds me of video game controllers from the 90s.
3) Hit one button and you have loud FM, no hassles of wires. Nokia wouldn't give you earphones at this budget, LG did. The 3.5mm jack means speakers can be plugged into the phone directly.
4) It was just released, the price equivalents from Nokia and Samsung are one to two year old designs.
5) The battery is 950mah, compared to 800 in that segment.
6) The screen is spectacular, Nokia couldn't hold a candle to LG at that price range. No wonder Apple gets its retina display screens from LG.
7) The usual knicknacks people use when bored, spaceball, calculator, alarm, stopwatch, torch, worldclock, a converter that does temperature, weight, volume, area, velocity and currency.

The downside: Getting the torchlight to come on requires opening the menu and is as cumbersome as opening an app.
Even the outdated E63 only needs you to hold down a button.

Anand Gowda
Bengaluru
D
vyga, 21 May 2011lg made optimus x2 and then this... :D funny guys :Dlow-end mobile has its market dude. think about people who can't afford much amount on high-end phones.
W
Still better than BB because it has FM Radio:)
And for people who just needs phone & message only
B
Finally a phone THAT IS JUST A PHONE Good work LG im sure the older generation will be happy. Its actually refreshing to see a company still aiming for the older generation and not getting lost in the younger generation.
Total of 35 user reviews and opinions for LG A100.