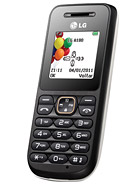 a
How i can set new song into A180?
I have Song file Such midi But I Dont now How to use by a180 / can help me any body?
d
this phone voice call clarity is good. Speaker is loud enough, you can enjoy fm radio without headset. But the font is too small for me (the screen only 1,5 inch). It hurts my eyes after composing text message for around 15 minutes
P
This phone has nither Camera nor Memory card. How does it suport photocall?
A
In basic phone models LG is yet to deliver a good all round model...I haven't met yet except the LG GS117 which for me is impeccable...unfortunately now its out of stock.
A
Software hangs serioustly..Particularly when browsing thru. Call logs.....other wise good talk clarity, battery backup awesome..
P
Very Good Mobile for Basic Purpose.I recommend to buy this mobile than Nokia,Samsung Basic mobiles.
Advantages:
Good Telephony
Light Weight
Excellent KeyBoard
Long Battery
Wireless FM with Super quality

what more needed for basic mobile.
Total of 30 user reviews and opinions for LG A180.