Today, LG officially started their very own application store, where their customers can find fresh new content for their handsets. There are more than 1400 apps already available for download, with 100 of them coming for free.
Unfortunately the LG app store is only available in Australia and Singapore, but it will be launched in 22 more countries with 14 different languages supported by the end of the year. The number of available applications is also planned to grow beyond 2000 by that time.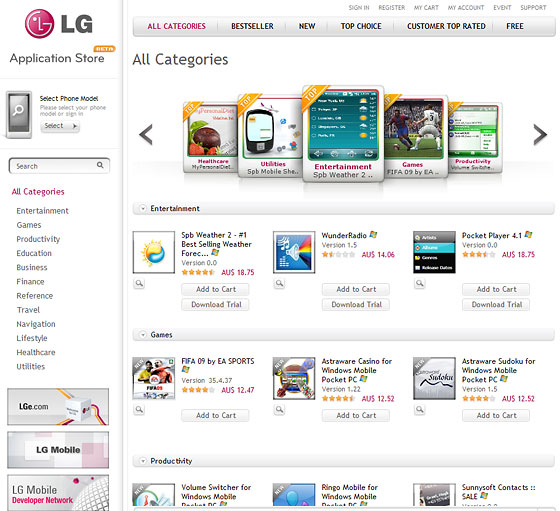 Currently the LG app store only provides content for the two most recent WinMo-powered handsets of the Korean company - GM730 and KS20. The company promises, however, that more handsets will join the list in the coming months.
If you are the lucky owner of any of the two handsets mentioned above and if you reside in Australia or Singapore you can check out the LG application store over here. The rest of you will have to wait for a while longer until they can enjoy the app store goodies.
s
hey Maulin, can u plz tell me how did u do this?
M
whatsapp App dounlod bye lg kp 500 mobile
L
Is Lg gs 290 compatible with whatsapp?
ADVERTISEMENTS