LG is on a roll - just a day after the LG Optimus 2X powerhouse went official, LG officially confirmed the existence of LG B. It's a super-thin droid with a screen that might turn out better than both Retina and SuperAMOLED.
The LG B first showed up in spy shots comparing it to the Apple iPhone 4 and the Samsung Galaxy S. Those are two of the thinnest, most popular smartphones with the best screens in the industry - and from the photos it seems that the LG B has them beat on their own turf.
The 4" screen on the LG B seems brighter than both the iPhone 4 and the Galaxy S screens - and according to some rumored specs it's very power efficient. The screen is supposedly an IPS LCD unit (same basic technology as Retina) and yet draws no power when showing a black screen - something that should only be possible with OLED and not LCD, so we're taking this with a pinch of salt.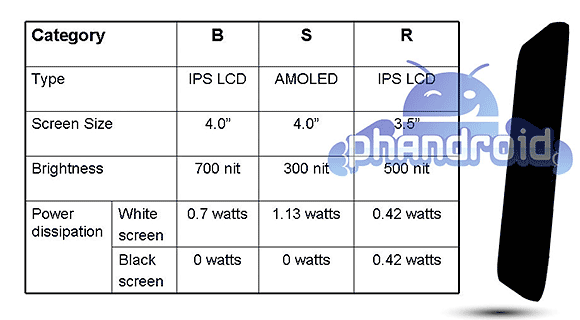 B is the LG B, S is the Galaxy S and R should be for Retina (the iPhone 4 display)
The LG B is also reportedly super-thin - thinner than the 9.9mm Samsung Galaxy S and even the 9.3mm Apple iPhone 4. There's no info on how thin exactly it is though, but anything less than 9.3mm with a 4" screen would look incredibly thin (though maybe fragile too).
Anyway, the best news is that LG officially confirmed via Twitter that the LG B exists and we'll see it at CES 2011. The original tweet has been deleted (though there are other tweets referencing the LG B) and Twitter isn't always the most reliable of sources. We won't have to wait long to find out the truth though - CES starts January 6.
f
pa lg proizvodi ekrane i prodaje ali bi trebali se ugledati kao samsung za sebe svoj brend zadrzati najbolju tehnologiju i ugradjivati u svoje mobitele a ne prodavati drugima za profit a u svoje stavljati prosjecnu tehnologiju samsung je to uspjesno ...
?
Snoop better be reppin the LGB instead of the LBC!
C
It looks like both the iPhone 4 and the Galaxy S have not been adjusted to 100% brightness.I have an iphone 4 and I know its screen is a lot more vibrant than what is shown, and from working on a daily basis with the Galaxy S- I'd also say that it ha...
ADVERTISEMENTS