Bittersweet Noir
LG BL20 New Chocolate review: Bittersweet Noir

Poor multimedia
Very basic image gallery
The gallery of the LG BL20 New Chocolate is accessible only through the My stuff icon in the main menu. It offers two view modes: thumbnail with 9 thumbs on screen, and list view with only 7 file names with tiny thumbs displayed. Be aware that heavily populated folders take their toll: the gallery refreshes its thumbs every time it's launched.
You can view single pictures in both landscape and portrait mode or you can opt for fullscreen. You can also zoom in to see further detail. But there is a problem here - if your picture is more than two megapixel, forget about zoom. The BL20 tells you the file is too big and zoom is not enabled. Nice one! Even on images that allow it, be warned that zooming is slow and it might just get too annoying. The only good thing here is the panning speed.
Worst of all, the slow browsing speed inside the gallery is quite a bugger. Loading the next image always seems to take forever.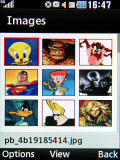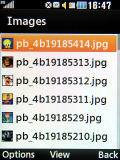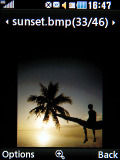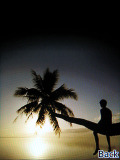 Thumbnail and list view modes in the gallery • single pictures can be browsed in fullscreen
Simple music player
The music player on the LG BL20 New Chocolate is the same as in the KF750 Secret. It sorts tracks by three different filters - artist, album and genre. You can also create your own playlist if you like. The player offers only two simple visualization options - Album art and equalizer bars.
When the music player is active, the buttons on the touchpad are used as media controls.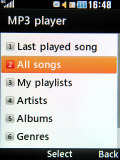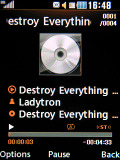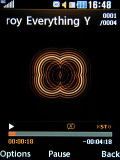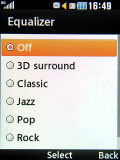 Music player interface • the available equalizer presets
There are 7 equalizer presets on LG BL20. Sadly, neither can be modified, nor new ones created.
Video player is a letdown
Typical for a midrange feature phone, the video player is not much of an option. Varied codec support is non-existent and you can play only 3gp and some mp4 files at low bitrate. There are only few options there - fullscreen, delete or send file. You can jump back and forth in the video timeline though.
FM radio onboard
The BL20 New Chocolate has an FM radio of rather simple interface, that's generally very easy to work with. There is an auto scan feature that locates every radio station in your area and offers to save it. Unfortunately, RDS is not available.
Below par audio quality
The LG BL20 New Chocolate might have the looks but certainly lacks the voice to be a lead singer.
It achieved a pretty bad score in our test in the frequency response section and didn't impress in stereo crosstalk either. The dynamic range and stereo crosstalk were also only average. It might not seem as much but it took quite a look of effort on our side to achieve even that kind of readings.
The New Chocolate turned out quite pretentious musician and delivered awful output when set at the maximum volume. Only when it was set to 18 (from 20 level) and fed with .mp3 files, rather than .wav was it able to generate any kind of measurable result.
And as you can see from the table and the graph it is hardly setting the world alight.
| | | | | | | |
| --- | --- | --- | --- | --- | --- | --- |
| Test | Frequency response | Noise level | Dynamic range | THD | IMD + Noise | Stereo crosstalk |
| LG BL20 New Chocolate | +0.97, -2.08 | -80.6 | 79.6 | 0.0081 | 0.057 | -75.7 |
| LG BL40 New Chocolate | +0.25, -3.04 | -85.9 | 87.8 | 0.030 | 0.341 | -81.3 |
| LG KM900 Arena | +0.09, -1.61 | -91.6 | 91.7 | 0.0017 | 0.101 | -90.4 |
| Apple iPhone 3GS | +0.01, -0.05 | -92.1 | 92.1 | 0.0035 | 0.011 | -95.0 |
| Samsung S8000 Jet | +1.01 -2.03 | -87.9 | 87.0 | 0.015 | 0.060 | -85.9 |
| Sony Ericsson W910 | +0.25, -1.25 | -81.5 | 82.7 | 0.0071 | 0.028 | -81.9 |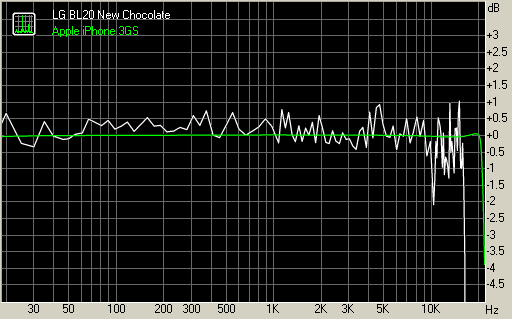 LG BL20 New Chocolate vs Apple iPhone 3GS frequency response compared to Apple iPhone 3GS
You can find more info about the testing procedure and more results here.