Bittersweet Noir
LG BL20 New Chocolate review: Bittersweet Noir

Organizer and apps
The organizer and the standard applications are a pretty basic package too and far from what we expected. In fact most of the software are just cut-down versions of those on the LG KF750 Secret. But there is no document viewer and this may be the first LG handset to omit it.
The calendar offers daily, weekly and monthly view modes and three different events available for setting. Those are: anniversary, birthday and appointment, and each of them has its own unique fields. Naturally alarms can also be set up to remind you of the event at a given time.
There is also a To-Do app, Memos - text and photo, Alarm settings, calculator, voice recorder, stopwatch and unit converter. We can't say anything special about them - all use a basic and simple interface to do their job.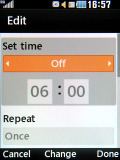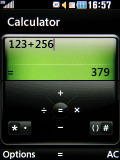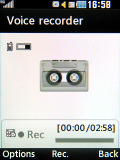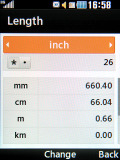 Alarms • Calculator • Voice recorder • Unit converter
The Alarm clock, Calendar and Memos are also easily accessible through their respective widgets.
You will also find Google Maps, Sudoku and a bunch of demo games. There is no GPS on board so the use of GMaps is limited.
Final words
The new Chocolate series by LG are trying to carve some new shapes into the design landscape. The BL40 is in charge of that. It allowed the designers to unleash their creativity and bend the rules. It's the limited edition, the luxury piece. The BL20 in turn is staying faithful to the original Chocolate concept, trying to revive an iconic name.
Exactly following the recipe was a top priority for the BL20 we guess, and the few actual upgrades are only there to give the handset some up-to-date credibility. A 200 euro price tag sounded quite unreasonable for the offered functionality but the Chocolate BL20 price went down by a good 50 euro during the week it took us to prepare this review.
So in the end, with some subsidizing from your carrier, you might as well get yourself a fashion device on a bargain - without the price premium it started off with. But as we said before, you will be getting what you're paying for.
It's not a phone for the power-user but this doesn't mean it can't be successfully targeted. And telecoms are likely to be among the customers too.
There are a few Sony Ericsson sliders that would fit the profile just as well. The C903 easily tops the Chocolate feature list with GPS, a better camera, and TV-out. And it also has enough sex appeal to go with the capable hardware and software.
The compact Nokia 6600i slide may also be an option. It may have an average camera and web browser performance, but it tempts with minimalist styling, it's compact, all metal and plays it nice with an accelerometer sensor and VGA video recording.
In the end of the day, the BL20 would've been just another slider, but BL40, the first of the New Chocolates, may be enough to fuel some interest for the BL20 as well.
Beyond that, the BL20 is hardly inspiring. It's unusually large and its feature pack is too trimmed down to make a point besides the obvious fashion statement. Truth be said, this here dark chocolate has a wee bit too much cocoa to chew on.
On the bright side, the recent price drop we witnessed may make it an attractive buy this holiday season and if you're after some looks rather than wits, feel free to help yourself and don't let us spoil your party.