LG opened a new office in Amstelveen, Holland and decided to show off the LG BL20 New Chocolate's color range plus some interesting info about its UI. The LG GW300 was also at the party along with some other models we've already seen.
The BL20, which originally leaked as BL42, has the traditional Chocolate look and form factor, unlike the LG BL40 New Chocolate. The color options are also very reminiscent of the original Chocolate.





LG BL20 New Chocolate in all the colors we've seen so far
Anyway, the interesting thing here is that BL20 New Chocolate apparently runs a non-touch version of the S-Class user interface, despite earlier rumors. The S-Class UI has so far been reserved for touchscreen handsets, but here is an interesting piece of trivia for you - it is reportedly much smoother on the BL20 than it was on the LG GD900 Crystal.
The other phone of interest was the LG GW300. It has a full QWERTY keyboard, a QVGA screen, 2MP camera, microSD card slot and 3.5 mm audio jack. It doesn't have 3G connectivity but with a price of about 100 euro, the LG GW300 will be one of the most affordable full-QWERTY handsets on the market.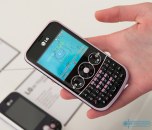 LG GW300 would be an affordable full QWERTY phone
Release dates are still unknown, as we are waiting for LG to step in and officially announce the LG BL20 New Chocolate.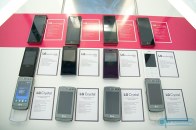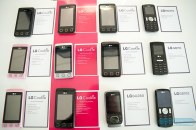 A wall of current and upcoming LG phones
?
Right. Kinda amazing comments. From supposedly common people.
D
What's up with the horrible alien crop circle design on the navi buttons of the LG GW300? Not one single phone they have made looks good. The should relax and not try so hard. It all goes wrong.
ADVERTISEMENTS