Kinetic scrolling for a sweeter phonebook
The S-Class has an attractive and thumbable phonebook. The Contact list has tiny separators with the corresponding alphabetical letter. The phonebook displays every contact with a picture, name and a green call button for quick dial. Tapping on a contact will take you to a next screen with details and Call/Text buttons. The option to locally expand the contact info straight in the contact list is not available this time.
The novelty on the contact's detail screen is recent history - all calls, messages and emails to and from this contact can be found here.
Like most of the interface on the GC900 Viewty Smart, the phonebook is highly touch-optimized. Scrolling is kinetic or as it has been called lately - it's the flick scrolling type that comes with inertia and only needs a flick of your finger to start rolling. It's fluid enough with only occasional motion jerks so, it's the best we've seen so far from LG.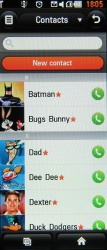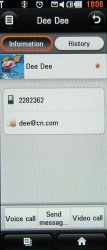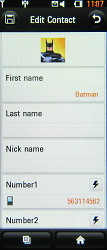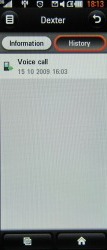 Phonebook • Editing a contact • Contact history
Of course, there is a search option and it's available on top of your contact list. The good thing is it's now visible at all times regardless of your position in the phonebook. This is quite handy and LG have done well to take advantage of the bigger screen . None of the previous S-Class powered handsets, or even the iPhone, have that.
Users no longer have the option to place a specific contact on the contact homescreen by tapping the small star button. The star is still there but only to indicate your favorite contacts. The adding of contacts to the favorite homescreen is now easily available from the homescreen itself.
The telephony tastes excellent
The BL40 New Chocolate handles phone calls flawlessly, as you have every right to expect. The phone dialer works with an on-screen standard numpad.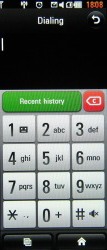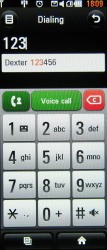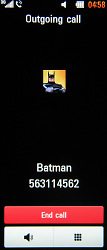 Phone dialer • Smart dial • Making a call
The green history shortcut is available on the dial pad and takes you to the call log. It turns into a green receiver key as soon as you punch some numbers. You can also access the call history from the main menu.
We would have preferred it if there was an easier way of getting to the call history. Your recent contacts are probably the ones that you call most frequently so having a quick access to them (such as a hardware key, for instance) would have been much better.
Rejecting and receiving calls are also two operations that are in dire need of their own hardware keys. If not for anything else, the Off key would have been quite comfortable for muting and subsequently rejecting an incoming call. Now your only tolls to do that are the sliders on the screen itself - which, believe it or not, are not that easily recognizable in direct sunlight.
Smart Dial is of course available but it's a disappointment more than anything else. The Smart Dial implementation on the New Chocolate only searches for contacts whose numbers contain the digits you've typed in the dialer. This just isn't of much help since most people don't bother to remember the numbers of their contacts as long as they got their names. Plus searching in the recent calls history is also a nice suggestion.
The LG BL40 New Chocolate scored a Very Good mark in our loudspeaker performance test. Here is how it stacks up against some of the other handsets we've put through it. More info on our test is available here.
| | | | | |
| --- | --- | --- | --- | --- |
| Speakerphone test | Voice, dB | Pink noise/ Music, dB | Ringing phone, dB | Overall score |
| Apple iPhone 3G | 66.1 | 62.1 | 71.7 | Below Average |
| LG KC910 Renoir | 71.9 | 65.6 | 72.0 | Good |
| Nokia 5800 XpressMusic | 75.7 | 66.5 | 68.5 | Good |
| LG KM900 Arena | 70.9 | 68.2 | 78.3 | Good |
| LG BL40 New Chocolate | 71.8 | 70.6 | 81.9 | Very Good |
| Samsung M8800 Pixon | 75.7 | 69.6 | 82.1 | Very Good |
| LG KF900 Prada | 77.1 | 75.7 | 82.0 | Excellent |
Candied messaging
There are two major sections in the main menu - Messaging and Email. The LG BL40 New Chocolate supports sending and receiving SMS, MMS, and email messages. SMS and MMS share the same editor.
The messages are neatly organized in a standard list view and sorted by date. You can choose a filter - SMS, MMS or notifications. Naturally, the Inbox is the default location when you enter the Messaging menu, but you can change it to Outbox, Sent, Drafts or My Folders. There is also a threaded view option.
You can either type on the standard alphanumeric keypad or flip the BL40 landscape and enjoy the huge - and we mean it - QWERTY keyboard. There is touch feedback either way, and typing is very accurate. This time though the QWERTY keys are big enough and it is much harder to tap the wrong key. Each symbol you tap is clearly marked by iPhone-style pop-ups. The huge screen has allowed for larger Favorites and Contacts shortcuts on the SMS screen, which have replaced the small square buttons from the past.
When it comes to email, set up on the LG BL40 New Chocolate is hassle-free. Adding an email account is a breeze thanks to the clever set-up scheme. For a Gmail account for example, all we had to do was fill in the account and password fields - the connection settings were retrieved automatically.
In case you have to setup your email account manually, there is a host of settings that you need to enter. Both POP3 and IMAP4 protocols are supported and you can set the handset to auto retrieve new mail at a preset interval with a dedicated setting for roaming. The email client supports SSL encryption too.
To make better use of the unusual screen aspect ratio, the email client has a completely new look. In portrait orientation it's the same as in the older S-Class version, but turning the BL40 New Chocolate to landscape mode reveals a much more comfortable interface. The message headers are sorted in a column on the left side of the screen, while a preview pane on the right lets you read the selected email. This type of UI resembles standard desktop email clients such as Outlook or Thunderbird and we are sure it will be heartily welcomed by those looking for PC-like experience on their phone.
Maximum attachment size for both outgoing and incoming mail is 2.2MB, double the 1MB limit of the previous S-Class phones.
Quite naturally, archive files such as ZIP or RAR are not among the supported file types for attachments, but you can still save those to the phone memory when you receive them. You can open and preview MS Office and PDF attachments directly inside the email client.
Once you've downloaded your messages, you can use the search feature to find specific emails or you can sort them by various filters such as date, sender, priority, read/unread, subject, size, etc. There is also an option for setting multiple emails as "Read".
Unfortunately, the messaging part of the LG BL40 New Chocolate has nothing to offer in the social networking department. It's actually quite strange, as cheaper LG phones such as the LG Pop and LG GW520 have push social networking right out of the box.