FM radio and FM transmitter
The BL40 comes with an FM radio that can play on both the headphones and the loudspeaker. In either case you've got to have the headphones plugged in as they serve as an antenna.
The radio stores up to 60 stations and there is support for receiving two-line radio station info over RDS. Scrolling stations is very easy and intuitive - you have quick access through the two rows of buttons below the main window.
When the FM radio is running in the background you can control it using the homescreen widget.
Another nice addition to the LG BL40 New Chocolate feature list is the in-built FM transmitter, allowing you to broadcast the currently playing track to any standard FM radio receiver (e.g. car audio or home stereo). The FM transmitting range is somewhat limited much like on the LG Arena and if you've got your car antenna at the back (such as on the trunk) you might have issues in receiving clear signal up in front. But your mileage will probably vary depending on the strength of your receiver FM tuner.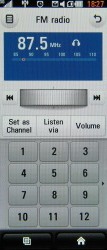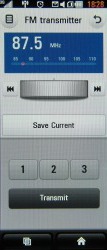 The FM radio and the FM transmitter
Naturally stereo Bluetooth is also supported, so you can enjoy your music on wireless earphones. If you don't like the headset that comes in the retail package, you can easily change it for another thanks to the standard 3.5mm audio jack.
Audio quality fares decently
The LG BL40 New Chocolate has pretty decent audio quality, achieving noteworthy scores on some of the readings in our traditional audio quality test. The handset is only a tad worse than the LG KM900 Arena as you can see from the table below, but that kind of differences are intangible in real-life scenarios.
The only notable problem with the New Chocolate audio output is that it has cut-off bass frequencies, probably due to some kind of high-pass filter meant to improve sound on small size headphones.
On the positive side the LG BL40 has decent intermodulation distortion and oustanding dynamic range, noise level and low stereo crosstalk readings. The total harmonic distortion is also kept well under control. And here go the results so you can see for yourselves.
| | | | | | | |
| --- | --- | --- | --- | --- | --- | --- |
| Test | Frequency response | Noise level | Dynamic range | THD | IMD + Noise | Stereo crosstalk |
| LG BL40 New Chocolate | +0.25, -3.04 | -85.9 | 87.8 | 0.030 | 0.341 | -81.3 |
| LG KM900 Arena | +0.09, -1.61 | -91.6 | 91.7 | 0.0017 | 0.101 | -90.4 |
| Apple iPhone 3GS | +0.01, -0.05 | -92.1 | 92.1 | 0.0035 | 0.011 | -95.0 |
| Samsung S8000 Jet | +1.01 -2.03 | -87.9 | 87.0 | 0.015 | 0.060 | -85.9 |
| Sony Ericsson W910 | +0.25, -1.25 | -81.5 | 82.7 | 0.0071 | 0.028 | -81.9 |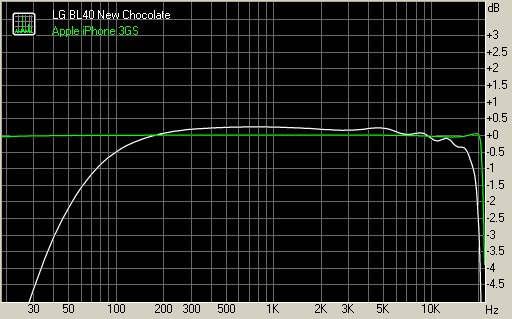 LG BL40 New Chocolate frequency response compared to Apple iPhone 3GS
You can find more info about the testing procedure and more results here.
No Wi-Fi video streaming tastes bitter
The BL40 New Chocolate comes with YouTube integration and you can upload videos to YouTube directly from the handset. Bear in mind that the option is available only in the video player and not in the file manager.
Unfortunately, the S-Class web browser, as with every other LG phone, doesn't have Flash support, so watching YouTube videos on the desktop version of the web site is a no-go. The only way to watch your favorite videos is via the mobile version of YouTube.com.
Unfortunately and typically, the LG BL40 New Chocolate allows you to watch streaming media (of any type) only over the EDGE or UMTS connection (even if Wi-Fi is listed as an option, it just doesn't work), so in essence - you cannot watch the streaming mobile YouTube videos over Wi-Fi. A real bummer, we know. The same strange issue plagues the Crystal, Viewty Smart, Arena, Prada 2 and the Renoir. Is it really impossible for LG to add that feature?
And since a lot of users don't seem aware of this fact, here's a tip - to watch streaming videos (such as YouTube) you first need to set up the dedicated streaming settings of the phone to use the same internet profile as your mobile web browser. The place you do that is on Settings row>Connectivity> Streaming settings.
5 megapixels of chocolate
The BL40 New Chocolate sports a 5 megapixel camera with a Schneider-Kreuznach certified lens and a LED flash. It's capable of taking photos with maximum resolution 2560x1920 and features image stabilization, geo-tagging, face tracking, blink and smile detection.
The BL40 New Chocolate comes with the revamped camera interface, resembling that on the Viewty Smart. You can access all camera settings via the left taskbar in the viewfinder. There you get virtual buttons for Scene mode, flash, focus mode (auto/macro), advanced settings and Homescreen button.
The BL40 New Chocolate Advanced settings camera menu is a clever rotating dial (digicam style) with the available options for each setting displayed as a list on the right. The interface is very friendly, neat and usable.
There's another bar on the right hand-side of the screen. It offers a virtual shutter key, as well as quit and gallery buttons. This bar is fixed and is not transparent - it's always there to get around the wide aspect ratio of the LG BL40 New Chocolate screen.
There are two scroll bars on both sides of the viewfinder - one for zooming and one for the viewfinder brightness adjustment.
Now, about the available settings. First off, there's the standard set of options such as white balance, preset scene modes, self-timer, color effects, image stabilization, ISO and exposure compensation. A dedicated macro mode is available and close-ups usually turn out fine. Unfortunately, neither the scenes menu nor the macro switch is available as shortcuts directly in the viewfinder – you have to dig for those in the additional specs.
The LG BL40 New Chocolate has a nice Continuous shooting mode that snaps 6 full-res images and then allows you to review them and pick the keeper(s).
The Panorama mode also deserves attention. The BL40 New Chocolate can take up to twelve shots (of 640 x 480 pixel resolution) that are stitched together automatically. The actual snapping is also automatic and the result is an extremely wide photo with a height of at best 480 pixels. It would have been much nicer if it could produce a panorama photo from three full-res shots, like the LG Renoir, for instance.
Thanks to the built-in GPS you can also get fairly accurate GPS data embedded in your photos. Later on, when you upload them to a geotag-enabled photo sharing service (Flickr or Picasa to name a few) you can show your friends and family where you took them.
Face detection and tracking is another hip feature making its way into high-end cameraphones. Unlike digital cameras however, the BL40 can only detect/track one face at a time.
Smile detection is a nice add-on to the face detection gadgetry. When smile detection is enabled, it sets the camera in auto shutter mode, so instead of shooting right up when you press the shutter all the way down it waits for a smile on the currently detected face and snaps only when the time is right.
Another tool in the LG ammo is Beauty shot, which we guess many people would welcome. It smoothes skin and enhances skin tones for a better portrait.
LG BL40 New Chocolate also offers enhanced color effects that include cooling or warming the scene and adding a nice looking vignette as part of their Art shot.
Finally, the Out-of-focus shot mode simulates the background defocusing that DSLR cameras offer.
Now those are things that you can easily replicate with most desktop image editors but if you are among the many people that don't like to waste time with post processing on a computer, now you have a chance to get those shots just as you like them straight in the camera.
The LG BL40 produces nice photos with decent levels of detail and pleasant colors. The noise levels are tolerable, though sometimes they can be a bit higher than usual. In some places there's extreme oversharpening, but it's rare enough and definitely something you can live with. There are aspects that clearly need some more work, but the overall feeling about the image quality remains positive.
















LG BL40 New Chocolate camera samples
Video recording
Unfortunately, we can't say the same thing about the video recording. The BL40 video recording is a total disaster. The handset is expected to capture videos with VGA resolution at 30 fps. Instead we got a video coming from a CIF resolution source and almost half of the promised 30 frames are duplicates. You can see the camera samples for yourself.