All-round connectivity
Wireless connectivity support is abundant on the LG BL40 New Chocolate. Quad-band GSM/GPRS/EDGE is on board and so is the HSDPA 7.2 Mbps.
The phone also supports the two local connectivity standards - Bluetooth and Wi-Fi. Wi-Fi options have a simple interface - you choose the desired network, type the pass key and voila - you're connected. Of course, there are plenty of advanced options available for the geeks out there.
The last and most important thing is that every installed Java application, which requires internet access prompts you to choose between UMTS and Wi-Fi, which is a great option. You can have Google Maps running on a Wi-Fi connection, for instance.
The LG BL40 Nw Chocolate comes with the standard microUSB port for charging and data transfers. Speaking of data transfers, Mass storage mode is supported so you can use the phone as a removable storage device. That only works for the memory card though - you cannot access the New Chocolate's internal memory in this mode (you have to connect it to LG PC Suite IV to access that).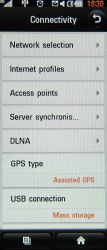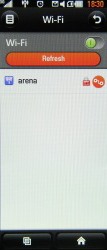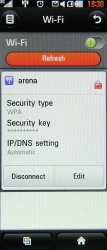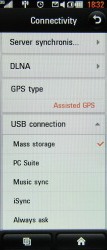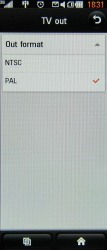 Connectivity menu • Wi-FI manager • USB settings • TV-out options
Thanks to the standard 3.5mm audio jack you can opt for using your favorite pair of headphones with the LG BL40. However, in that case you'll lose the mic, which is embedded on the original set. The LG New Chocolate uses the same type of headphones as the LG Arena (yes, they're white) and those are headphones we're generally quite pleased with.
You can also hook the LG BL40 to an external monitor using an optional TV-out cable in either PAL or NTSC mode.
A nice web browser, but no Flash support
The LG BL40 web browser is identical to those ones on the previous S-Class devices, except for the screen aspect. Scrolling and panning have been improved a bit and it performs generally more fluid than its older siblings.
As usual, the BL40 New Chocolate delivers the legendary 'pinch' zooming. LG have done a good job here but the zooming action is a bit more fluid in the image gallery than it is here. Still it bests the previous S-class phones.
Loading speeds are not particularly enviable though. Over Wi-Fi, the LG BL40 browser takes twice the time to fully load a page than the iPhone 3G (not to mention the 3GS) and you can't really pan around while the page is still loading.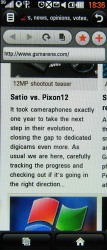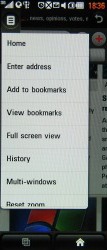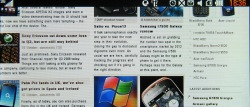 Browsing GSM Arena on the LG BL40 New Chocolate
The controls are found at the top of the screen and don't auto-hide. The only option to make them disappear is to turn on the full screen view from the browser menu or flip the phone landscape. Then the accelerometer comes into play and does its job pretty well.
A useful feature is that you can have several pages open at the same time and switch back and forth between them from the Multi-windows option from the menu. The way it's done is identical to the iPhone Safari - in a 3D reel. Saving pages for offline viewing is another thing that you'll probably use quite often.
Another handy browser skill is searching web pages for specific words - the first match gets highlighted and the total number of matches is displayed with up and down buttons to scroll them.
A visual enhancement of the plain browsing history list is the option to view snapshots of the pages you've visited. You can flick between the pages and tap to open the one you are looking for.
Unfortunately, desktop YouTube watching is a no-go, as the browser lacks full Flash support. But, as we already pointed out in the video section of this review, you can go for the mobile version of YouTube found at m.youtube.com. Just remember to tweak your streaming settings.
Brownie bar organizer
Keeping a schedule is an important part of the LG BL40 New Chocolate and it has several applications to help you.
The nice Organizer combines a calendar with monthly and weekly views and a task list. Event alarms can be set to go off up to a week earlier to give you enough time to prepare.
Choosing Monday or Sunday as the first day of the week is also an option. You can also mark some days as holidays and override the Alarms set. 'Holidays' are not repeated annually so it's more useful to mark your vacation with them rather than national holidays.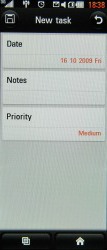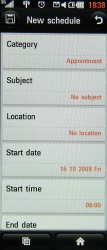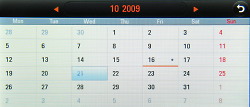 New tasks • Calendar landscape view
A To-Do application lets you keep a list of tasks sorted by their importance. If those reminders aren't enough you can always jot down a Memo.
The LG BL40 can store up to 500 calendar events, 500 To-Do notes and 100 memos. Making a back up to external memory is just a few clicks away.
Another option in the Organizer menu is the Date Finder. A visually-impressive option is selecting a month through the main calendar view. It opens a nice spinning wheel with two parts where you can choose the appropriate month and year by rotating the wheels. That can't help but ring our iPhone-copycat bell.
The alarm functions are typical S-Class. Apart from the default alarm you can create as many alarms as you want. This gives you access to another eye-catching interface - an analog clock where you set the hands at the desired time. There is a digital one for those who prefer it. The other available settings are alarm tone, vibration, and snoozing.
Naturally, you also get a calculator with a new touch-optimized interface and a wide array of functions (basic and advanced mathematical functions), a Unit Converter, a World Clock and a Voice recorder. Voice recordings are not limited in duration and can be sent via MMS, email or Bluetooth.