GPS onboard, LG Wisepilot in charge
Google Maps is the most popular electronic map software for mobile phones. It comes preinstalled on the LG BL40 New Chocolate and makes use of its built-in GPS receiver. It worked just fine and the version is designed specially for the handset's native resolution and screen aspect.
But more importantly, a full-featured navigation software is finally preloaded: the New Chocolate comes with the Wisepilot for LG. The app is very easy and intuitive to use. Wisepilot takes advantage of all NAVTEQ maps, so it's unlikely you will find anything important missing.
As with every other navigation software, the Wisepilot offers route calculations, specific searches, traffic information, weather, etc. And it has voice assistance of course. You can also log in WisePilot website made especially for LG users and plan your trips on the desktop computer and then transfer them to the cellphone. Bear in mind though, that much like with Google Maps, all the WisePilot map data gets downloaded top your mobile live as you go via the wireless network connection so unless you're on a fixed data plan we suggest you mind your usage.
Unfortunately, the included WisePilot license is only a trial one and in our case it was valid for only a month. That may be subject to change in your region or under your carrier bundle, of course. Generally, a basic 3-month license for full Europe will cost you 25 euro, while a full-year license will set you back some good 70 euro. Extras such as Speed cameras cost another 10 bucks for a year's license.
By the way, WisePilot for LG is available for LG Arena and LG Viewty Smart as well, so if you're interested in getting a trial version for those, you can hop on to WisePilot website.
Games & Apps
The preinstalled Picsel viewer handles Word, Excel, PowerPoint and PDF files. Zooming in and out is done by - you guessed it - pinching.
There is a useful option to fit the contents in a single column but it only seems to work for doc files. The viewer makes full use of the accelerometer and auto rotates to take advantage of the wide screen.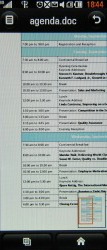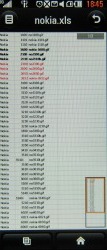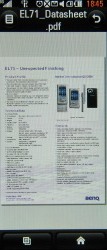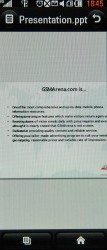 Office documents and PDF are supported
The preinstalled games on the LG BL40 are all motion-based - Racing Time 2, Dual Match, Music World, Hidden Catch Wide, Real Motion Fishing, Bubble Breeze and Musical Instruments.
Racing Time 2 is a standard racing game using the accelerometer to steer the car.
Dual Match is the most interesting game around designed specifically for the BL40 New Chocolate. It has both single and multi-player mode. You have a huge board with elastic balls and your task is to shoot the opponent's balls outside the board. If the game is played by two players, both of them need to be holding the phone at opposite ends. Multiplayer can be a real fun, we admit.
Then, there's the Music World game where you have to tap some jumping yellow creatures at the right moment in order to reveal a puzzle picture.
Hidden Catch Wide is a simple game where you need to find the differences between two pictures.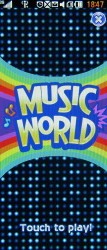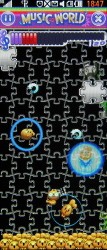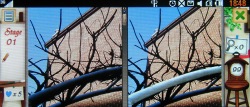 Music World • Hidden Catch Wide
Real Motion Fishing is a very simple game only meant to show off the accelerometer functionality. With a flick of the hand you angle the fishing rod and hope some fish will bite. Three attempts to score some points and game over. Simple, easy and pointless.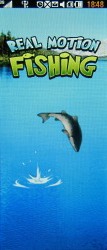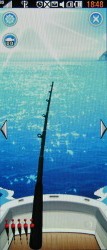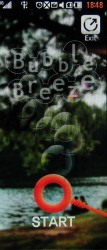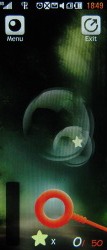 Real Motion Fishing • Bubble Breeze
Finally, Bubble Breeze is about making floating soap bubbles by blowing into the phone's microphone. Music Instruments gives you a piano keyboard or a set of drums to compose tunes by tapping on the screen.
There are also five additional demos in the Games section - Asphalt 4, Brain Challenge 2, Bubble Bash and Tetris. We've seen them many times before.
Final words
The New Chocolate packs enough skill to make comparison with some powerful smartphones almost inevitable. Now, it's obvious the LG BL40 is not in the same league as the likes of Hero, Omnia HD or Nokia X6 but we guess it will be more than welcome for an all-star friendly. It may sound unthinkable for a self-respecting geek to so much as consider the New Chocolate against any of those smart heavyweights, but the LG BL40 won't put up with being trivially dismissed as just another fashion phone.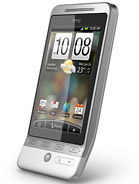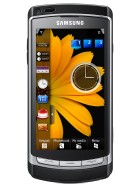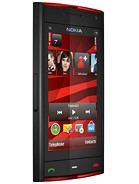 HTC Hero • Samsung i8910 Omnia HD • Nokia X6
Yes, the New Chocolate is a few things short of a smartphone but style it's got in excess. And that sets it squarely against a completely different kind of competition. The BL40 is a different breed that stands between smart all-in-ones and premium pieces like Nokia's Arte phones and the Erdos. Still, in today's dynamic market there is no shortage of rivals. The New Chocolate is special but it won't hurt to keep an eye on any potential contender.
The Samsung S8000 Jet has been available for a few months now and has already won many customers. The new 3D TouchWiz interface may well be a match for the S-Class, especially on such a powerful hardware package as the Jet. The compact design and equally matched feature set (including full DivX/XviD support, full web Flash support, D1 video and an excellent 5MP camera) make the Jet quite a treat. But not really a threat - we doubt it. The Jet has the specs but hardly the charisma.
It's been mere weeks since the release of the Sony Ericsson Aino and a lot of people are eager to see what it's got to offer. The Aino comes with limited touchscreen functionality, a slide-out keypad and an 8 megapixel snapper. In addition to the new Sony Ericsson Touch UI, you'll get PSP and PlayStation 3 remote capabilities.
To sum it up, the New Chocolate is not a regular update. It personifies the evolution of a company. There's an evolutionary chasm between the Old and New Chocolate and LG have been busy bridging it all these years. The LG BL40 is the fourth S-Class handset but the first with an actual upgrade, and it just about does everything we wanted from the S-Class in the first place.
The unique design and one of a kind display bring a whole new experience, distinguishing the BL40 from the rest of the mobiles out there. The New Chocolate packs all the company's high-tech knowledge and has the style to compete in the premium segment. It's technologically compelling and aesthetically bold. Premium handsets are niche products but the New Chocolate is not afraid to act as one. In the premium niche nothing is too much and the BL40 is keen to take advantage. Pushing eccentricity and specs through the roof.